Fan speed controllers have come a long way from the things enthusiasts built back in the days of the AMD AthlonXP. Back then heatsinks were getting louder and louder as manufacturers fought each other to install the most compact, highest RPM finger chopping fans they could find. Anyone remember 6000RPM 80mm Delta screamers? That lasted for all of about a year before lower noise heatsinks emerged, like the original Zalman fan-shaped coolers.
Most fan speed controllers were built with simple rheostat controls - a dial connected to a variable resistance device - which adjusted voltage from 5V to 12V. The lower the voltage, the slower the fan rotated. The next generation of controllers were modified with LEDs lights, had alarms to indicate a stalled fan, or were simply made more attractive. From there manufacturers took the idea and added digital RPM readouts and even displays that were connected to the computer to output a whole range of info about one's PC.
Fast forward to the present. Fan speed controllers have largely been replaced by software and BIOS controls which automatically manage the speed of CPU and system fans. Intel also upgraded the standard for CPU fans from a 3-pin fan power cable (+12, ground and RPM signal) to a 4-pin power connector standard known as Pulse Width Modulation (ground, +12V, RPM signal, PWM control). Pulse Width Modulation is a different way of controlling fan speed, and it works by modulating the power signal into a series of pulses of variable length. Think of it like the pits and grooves of a CD which come to represent loud or quiet sounds in music. PWM offers a more efficient means of motor control that doesn't work by decreasing the voltage to the fan. That method can occasional cause a fan motor to stall, and if that happens a processor can overheat.
Zalman introduced its ZM-MFC2 multi fan speed controller last year at CES, and the reason we're reviewing it today are three-fold. For starters, the Zalman ZM-MFC2 digitally monitors four fans to +/- 10RPM and displays that data in real time on a nice multi-coloured backlit LCD display. With it, you can set any speed from 60RPM to the maximum supported by the fan with a turn of the dial, for three 3-pin fans and one PWM fan. I haven't seen any other fan speed controller that allows the user to manage a PWM fan, so that in itself is pretty unique.
Zalman ZM-MFC2 Fan Controller

---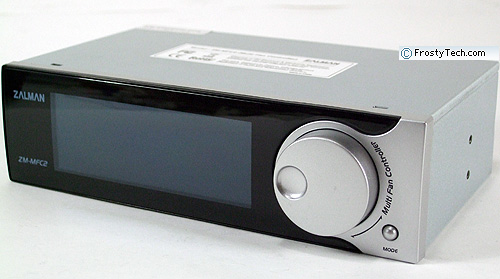 Secondly, the Zalman ZM-MFC2 has the ability to monitor four temperature points with supplied Kapton thermistors. Place a sensor on the motherboard northbridge, the videocard, hard drive or memory, and the display will output real-time temperatures to the nearest degree.
Thirdly, the Zalman ZM-MFC2 has the ability to monitor real-time computer power consumption from 30W to 800W. The average PC consumes about 150-175W unloaded, the average gaming PC spikes to 250-300W when the graphics card kicks in. It's surprising how much a good Active Power Factor Correction (A-PFC) power supply can improve the efficiency of your PC; this tool provides the insight. Accompanying the Zalman multi fan controller is a Current Voltage Sensor (CVS). It connects to the AC power mains before the power supply, so the ZM-MFC2 monitors the true total system power load.
Those are the three main features of the Zalman ZM-MFC2 controller; it independently manages the speed of four fans, monitors four different temperature points and displays real time total system power draw in Watts. Naturally, the ZM-MFC2 has alarms that signal if any fan fails, and is smart enough to not completely reset if there is a power failure. The Zalman ZM-MFC2 fits into a standard CD-ROM 5.25" drive bay and retails for about $55 CDN ($53 USD / £27 GBP).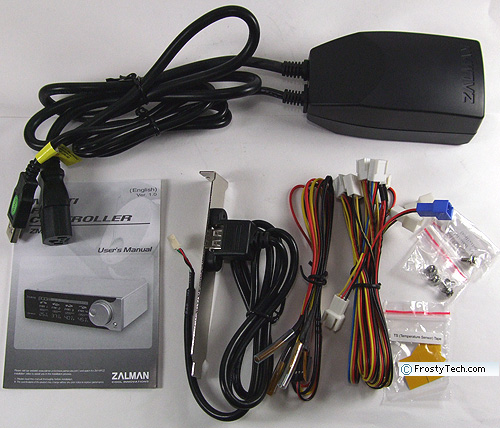 What You Get
The Zalman ZM-MFC2 fan controller comes with four Kapton thermistor temperature sensors (50cm long), three 3-pin fan power connectors, one 4-pin PWM fan power connector, a USB PCI bracket which acts as the interface for the Current Voltage Sensor (it's clearly marked as NOT a USB port), the CVS sensor block which hangs outside the PC chassis, four bits of tape for the temperature sensors, screws and printed instructions. The Zalman ZM-MFC2 is covered by a one year warranty.
Installation is straight forward so let's take a closer look at the Zalman ZM-MFC2 itself, and then the other components.