The Gigabyte Volar heatsink looks cool because it looks different. Perched at an angle above the processor, the Volar's 120mm diameter smokey grey fan has rather large impeller blades that look as if they'll propel air into the cooling fins of its donut shape heatsink with quiet force. Below, three heatpipes race from the copper base up towards two distinct rings in the extruded aluminum fins, distributing heat over a broad region.
Given the space limitations on many motherboards around the CPU socket, the Gigabyte Volar seems like a clever work around to accommodate a larger fan. At the same time, the angled exhaust stream moves cooler air right onto toasty MOSFETs where it certainly comes in handy. Yet, after a couple rounds of testing, FrostyTech is left wondering if this really is a heatsink you should adopt, or one you should avoid... The answer might surprise you, but first let's have a look at what the Gigabyte Volar heatsink brings to the table.
Gigabyte's Volar (GH-PSV21-FB) heatsink is compatible with socket 775 Intel Core 2 Duo/Quad/Extreme and socket 754/939/940/AM2/AM2+ AMD Athlon64 processors. It ships with a small assortment of mounting hardware that's easy to work with. A simple resistor cable allows users to jump between two fixed fan speed settings, though neither is especially whisper quiet. It's 120mm fan rotates at 2000RPM or 1500RPM with the resistor. Constructed primarily of a cylindrical extruded aluminum heatsink with heatpipes running around inside, the Volar relies on these heat conducting devices to connect its small copper base to the rest of the cooler. The Gigabyte Volar heatsink weighs 640 grams and retails for about $40USD.
Gigabyte Volar Heatsink

---

heatsink specsheet
manufacturer: gigabyte
model no.: volar gh-psv21-fb
materials: extruded aluminum fins, copper heatpipes and base
fan mfg: everflow f121225sl
fan spec: 1500-2000rpm, 12v, 0.20a
fan dim: 25x120x120mm
heatsink & fan dim: 141x125x120mm
weight: 640 grams
includes: multi-socket mounting hardware, thermal compound, fan speed cable, instructions.

---

Compatible with Sockets: 754/939/940/AM2, LGA775
Est. Pricing: $44USD ($44CDN)
Since this is Frostytech, let's take a close look at some of the design elements of the Gigabyte Volar heatsink. For starters, there are a lot of potential benefits to an angled fan orientation - 45° in this case - far to many to go over here. The crux of it is that motherboard components around the processor socket are now getting so hot they require passive cooling. Rather than slap little fans all over the place, motherboard manufacturers anticipate a steady stream of air from the CPU heatsink to do the job of keeping MOSFET devices cooled. The Gigabyte Volar will do this, on three sides.
Heatpipes. It's almost a written rule that any heatsink worth its salt will use heatpipes. The Gigabyte Volar heatsink has three 6mm diameter copper heatpipes; two short ones connecting the base to the center of the extruded aluminum heatsink, and one long heatpipe that wraps around within the circumference of the heatsink before returning to the base. All heatpipes are soldered to the 5mm thick copper base, but on the opposite end thermal adhesive is used... and a great quantity of it.
This is where the Volar starts to loose its shine, the placement of the heatpipes is peculiar.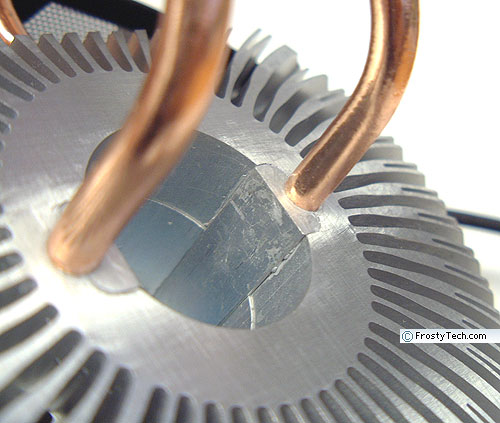 The two short heatpipes go into a 9.5mm thick 50mm diameter ring of aluminum, and are held in place with aluminum wedges and thermal adhesive. Seems logical, except these heatpipes are running parallel to the bifurcated aluminum fins that radiate outward, not perpendicular.