In this review Frostytech is testing out the OCZ Vendetta heatsink - a multi-CPU compatible lower noise high performance cooler with an interesting twist. Rather than hiding its three big copper heatpipes away, it puts them front and center and in direct contact with the processor itself. In other words, instead of soldering on a bulky copper base plate, the Vendetta heatsink takes advantage of the superior heat conducting capabilities of heat pipes to efficiently move heat from the processor to the cooling fins without any intermediary steps.
If you take the OCZ Vendetta and flip it over you'll see an aluminum base with three wide grooves cut into it. Set flatly within each groove is an 8mm diameter copper heat pipe, and it's this which makes contact with the processor. In addition, the Vendetta makes use of rubberized fan supports and a Pulse Width Modulation fan whose speed varies in response to processor heat output to keep noise in check.
Now if you're a regular Frostytech reader, you'll recognize that the OCZ Vendetta is nothing more than a rebranded version of Xigmatek's HDT-S983 heatsink. In this situation though, Xigmatek is a somewhat obscure brand that can be difficult to find in local computer stores. OCZ's broad market availability means you won't have a hard time tracking down the Vendetta heatsink in your neck of the woods. The Xigamtek HDT-S983 was a great heatsink, and the OCZ Vendetta cooler will certainly follow in its footsteps.
The OCZ Vendetta heatsink FrostyTech is reviewing today is equipped with soft rubber vibration absorbing fan posts, and a 92mm PWM fan that spins at 1200-2800RPM, and some rather unique fin geometry. The Vendetta heatsink is compatible with socket 775 Intel and socket 754/939/940/AM2+ AMD processors. It retails for about $35.
OCZ Vendetta Heatsink

---

heatsink specsheet
manufacturer: ocz
model no.: vendetta
materials: aluminum fins, copper heatpipes, aluminum base.

fan mfg: ad0912hx-a7bgl ps(l2)

fan spec: 2100-2800rpm, 12v, 0.30a
fan dim: 25x92x92mm
heatsink & fan dim: 136x97x92mm
weight: 410 grams
includes: thermal compound, multi-socket mounting hardware, instructions, power adaptor.

---

Compatible with Sockets: 754/939/940/AM2/AM2+, 775
Est. Pricing: $35USD ($35CDN)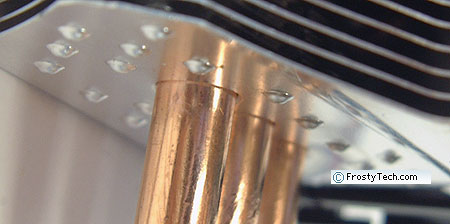 The OCZ Vendetta heatsink ships with separate brackets for Intel and AMD CPUs. The Intel socket 775 clips use the standard push-to-lock plastic clips that insert into the four motherboard holes around the processor socket.
AMD Athlon64 processors on 754/939/940/AM2+ work with a modified spring clip that attaches to the central lugs on the AMD heatsink retention frame. A cam lever at one end of the clip applies pressure to the heatsink base directly.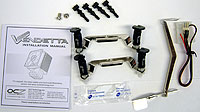 The AMD clips works, but can be prone to lateral bending after you clamp it down. A molex-to-3pin fan power adaptor is also included.
Base Finish and Flatness
Flipping a heatsink over to inspect the business end is often a simple indicator of overall cooler quality. More practically speaking, a heatsink is in many ways only as effective as the contact it makes with the processor - the flatter and smoother the better. Base finish is one of the criteria that Frostytech measure in the course of evaluating heatsinks, and it involves two distinct aspects. Surface Finish is the first; this is calculated with the aid of Surface Roughness Comparator that has a cross section of common machine surface finishes and their numerical surface roughness equivalents in microinches. The second is Surface Flatness. This is tested with an engineers straight edge or proven flat surface, in two axis.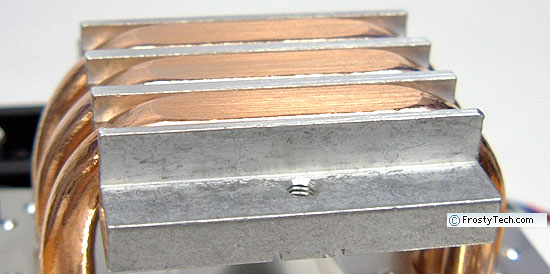 The base of the OCZ Vendetta heatsink has a sanded finish with a surface roughness of ~32 microinches, which is considered good. The aluminum and copper portions of the base are essentially flat. With the straight edge held up to the base, we do note that the copper heatpipes are very slightly below the surface of the aluminum at the center of the base, and perfectly flush towards either edge. This may indicate that sanding was a little too vigorous, as the soft copper wore away more quickly. With a heatsink design such as this, it's pretty important to ensure all three heatpipes are flush with, or proud of the aluminum frame along the entire 34mm long interface area. As you'll see, the OCZ Vendetta and original Xigmatek HDT-S983 heatsinks, though identical, don't necessarily perform identically.
There are three aspects of the OCZ Vendetta heatsink's design which are very innovative, let's have a look at them next...