The OCZ Vendetta uses 8mm diameter heatpipes at the bottom of the heatsink that are in direct contact with the top of the processor. This arrangement minimizes thermal resistance as heat energy is conducted directly to the heatpipes, instead of through a base plate, solder joints, then to the heatpipes as in a traditional cooler. The heatpipes, which are a larger diameter than the standard 6mm variety, thread up through the many aluminum cooling fins where heat is dissipated into the surrounding air mass.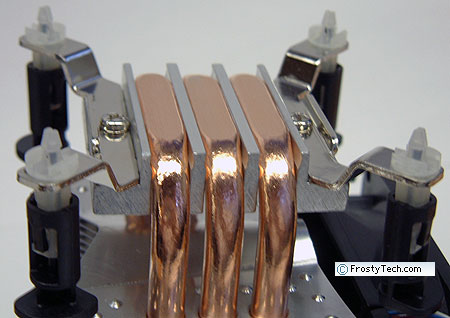 Most heatsinks have flat metal fins, sometimes with little bumps or ridges to stiffen them. The OCZ Vendetta uses widely spaced aluminum fins that have a curve down in the center. This helps lower velocity air pass through the heatsink with less resistance, while funneling air towards the regions of the aluminum fins adjacent to the 8mm dia. heatpipes. Small dimples in the fins create extra surface area and help break up laminar air flow.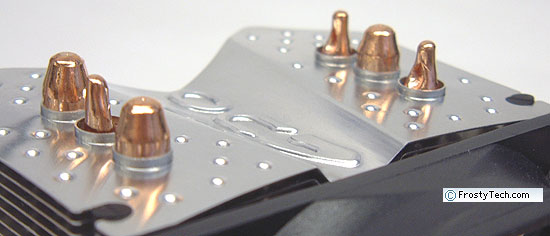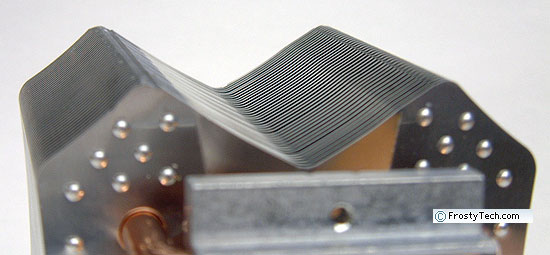 As air exits the rear of the heatsink, the spots with the least airflow are shortened and the most airflow extended slightly.
The 92mm PWM fan is held in place on the aluminum fins of the OCZ Vendetta heatsink with four rubber vibration absorbing posts. These fit through the standard screw holes in the fan frame, and keep it elevated off the metal fins. If the fan motor happens to develop vibrations down the road, the rubber 'shock absorbers' can reduce that from becoming noise.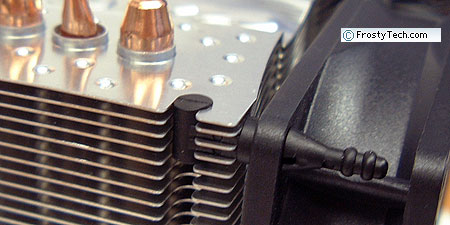 FrostyTech's Test Methodologies are outlined in detail here if you care to know what equipment is used, and the parameters under which the tests are conducted. Now let's move forward and take a closer look at this heatsink, its acoustic characteristics, and of course its performance in the thermal tests!