The Scythe Mugen and Infinity heatsinks are identical, except for a slightly more powerful fan on the former. As you saw in Frostytech's recent review, the Infinity heatsink is a quiet force to be reckoned with. That CPU cooler ranked in the Top 10 for its low temperatures and low noise output. The Scythe Mugen is no different, it just runs a little cooler still, and louder.
The Scythe Mugen is a big heatsink; it stands 155mm tall, 125mm wide and about 114mm deep with its 120mm 1200RPM fan. The scale tips at 930 grams, or just shy of a kilogram.
If you jump ahead to the acoustic measurements or thermal test reports you'll quickly discover that the Scythe Mugen has more cooling power than its predecessor. It also runs about 9dBA louder. As with the Infinity, Frostytech isn't going to delay the verdict for 5 pages - the Scythe Mugen is currently a Top 10 heatsink on both Intel/AMD platforms, and comes in Top 5 as far as AMD heatsinks are concerned. The only obvious downside to the Mugen is its size. It's big, and it may not fit in some compact PC cases. Most mid-towers and full tower PC cases should accommodate this heatsink just fine.
It seems like a lot of Scythe's heatsinks are making it into the upper class of CPU coolers. Anyway, Scythe's Mugen (SCINF-1000) heatsink installs onto any AMD K8 754/939/940/AM2/AM2+ or Intel socket 478/775 processor, and comes with a single fan although two could be mounted in a push-pull configuration if desired. The Scythe Mugen retails for about $49 USD.
Scythe Mugen Heatsink

---

heatsink specsheet
manufacturer: scythe
model no.: mugen (scinf-1000)
materials: aluminum fins, nickel plated copper heatpipes, extruded aluminum, copper base
fan mfg: scythe sy1225sl12m
fan spec: 1200rpm, 12v, 0.3a
fan dim: 25x120x120mm
heatsink dim: 156x125x115mm
weight: 930 grams
includes: mounting hardware, thermal compound, fan clips, printed instructions

---

Compatible with Sockets: 478, LGA775, 754/939/940/AM2/AM2+
Est. Pricing: $49USD ($49CDN / £21GBP)
Installing multi-socket compatible heatsinks can be a tricky thing. Manufacturers sometimes make just one bracket fit every kind of CPU socket available, and you get left figuring out a box full of hardware and instructions printed in 15 languages.
With the Mugen heatsink, Scythe is using a system of clips that make installing this heatsink onto a variety of Intel or AMD processors straightforward.

There are three pairs of clips. Each one clicks into the side of the heatsink without the use of any tools, and is removable by the same means. Standard LGA775 push to connect clips are used for current generation Intel chips, while another set of brackets accommodates older socket 478 processors. All four generations of AMDs Athlon64 CPU are serviced by one cam lever clip that engages on the central lug of the AMD heatsink retention frame. There are no rear-support plates to install, no screws to loose.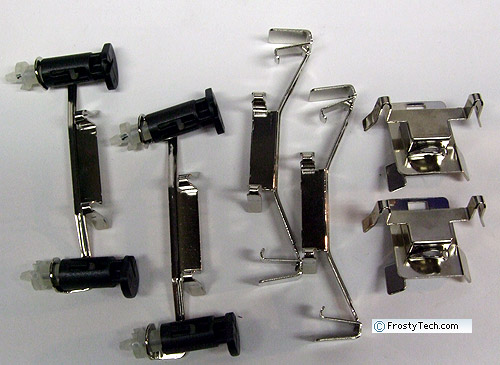 I have to say that of a all the heatsinks FrostyTech has reviewed recently, these clips are the most convenient. The heatsink is held on firmly and the appropriate amount of clamping pressure is applied to the CPU below. The heatsink ships with a small pack of thermal compound and illustrated instructions. It would have been nice if an additional set of wire clips were provided so two ultra-low RPM 120mm fans could be used, but that's about the only omission we found.
FrostyTech's Test Methodologies are outlined in detail here if you care to know what equipment is used, and the parameters under which the tests are conducted. Now let's move forward and take a closer look at this heatsink, its acoustic characteristics, and of course its performance in the thermal tests!