The Asus Silent Square EVO heatsink looks like a big square block of cooling... and that description isn't too far off. The heatsink consists of two arrays of nickel plated aluminum fins which are wrapped around a 92 mm PWM fan buried within the body of the heatsink. The fan, a Sunon Maglev with Vapo bearings no less, draws air through intake cooling fins and expels it slightly warmer out through exhaust cooling fins on the opposite side. Rotating away at 2300RPM within the heatsink, audible noise is diminished to the low 40 dBA's. Four blue LEDs give the entire Silent Square EVO heatsink a healthy glow. To further minimize noise production, the fan is PWM compatible.
No heatsink worth its salt would leave the factory without heatpipes of some kind, and true to form the Asus Silent Square EVO cooler puts five nickel-plated copper heatpipes to work. The heatpipes conduct heat from the copper base to each aluminum fin array. The Silent Square EVO heatsink weighs in at 745 grams, and stands 142 mm tall, so measure first if you have a compact PC case.
Mounting brackets are supplied to firmly hold the 0.75 kg heatsink in its place on any AMD K8 754/939/940/AM2/AM2+ or Intel socket 775 processor. The Asus Silent Square EVO retails for about $65 through sites like Newegg.com; a bit expensive for the performance it delivers, as you'll shortly see.
Asus Silent Square EVO Heatsink

---

heatsink specsheet
manufacturer: asus
model no.: silent square evo
materials: aluminum, nickel plated copper base and heatpipes
fan mfg: sunon maglev kde1209ptvx
fan spec: 2300rpm, 12v, 0.36a, pwm
fan dim: 25x92x92mm
heatsink & fan dim: 142x105x119mm
weight: 745 grams
includes: multi-socket mounting hardware, instructions, thermal compound

---

Compatible with Sockets: 754/939/940/AM2+ and 775
Est. Pricing: $65USD ($65CDN)
Mounting the Asus Silent Square EVO heatsink onto the CPU requires the use of special metal mounting frame, regardless of processor type. The system looks a little complex, but basically the same floating metal frame is used with all CPU types (AMD and Intel). Long screws pass through this metal bracket, into plastic standoffs and attach to a rear motherboard support plate. This keeps the custom Asus heatsink mounting frame elevated above the CPU socket.
The Silent Square EVO is held firmly in place by what looks like a standard K8 mounting clip. Given its weight is 745 grams, we're happy to see a sturdy frame, we just wish the whole process was a little more simplified.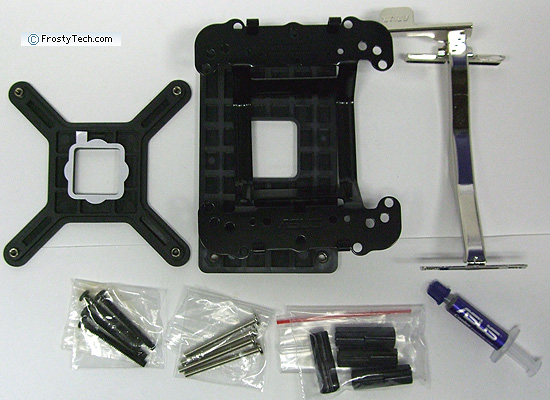 Asus' Silent Square EVO heatsink installs logically once you have the orientation of the upper metal socket and support stands all figured out, the only tool required is a screwdriver. The spring clip runs over the base of the heatsink to apply pressure onto the CPU. Both AMD and Intel users will have to remove the motherboard from the case to install a rear support plate first. That is always a bit of a drag to do.
FrostyTech's Test Methodologies are outlined in detail here if you care to know what equipment is used, and the parameters under which the tests are conducted. Now let's move forward and take a closer look at this heatsink, its acoustic characteristics, and of course its performance in the thermal tests!