Auras Technology Co. Ltd. are a ISO-9000 Taiwanese thermal solutions company which was originally established in 1998 to service the needs of the big OEM companies making laptops. The company later diversified into desktop CPU heatsinks, and now produces about 3M units a month from its Kunshan factory just outside of Shanghai. Frostytech visited MSI's Kunshan motherboard factory this past September, and we can tell you first hand that this area of China a very modern industrial park; about the size of a city in fact.
The Auras SLC-747 heatsink Frostytech is testing in this review for you is designed for socket 775 Intel Core 2 Duo and AMD socket 939/940/AM2/AM2+ processors. As with most heatsinks vying to relace the stock retail thermal solution, the SLC-747 features 95mm PWM fan that scales in speed from a quiet 700RPM all the way to 2400RPM when the heat hits the fan. Versatility is the key to any good heatsink, particularly if you want it to remain quiet and well performing under load.
While the Auras SLC-747 has the potential to be a low noise cooler, it essentially requires a PWM compliant motherboard to facilitate this. Pulse Width Modulation compatible fans are noted by their 4-pin power connectors, and what PWM does is enable the BIOS to directly control fan speed. The impeller speed increases or decreases relative to the processor's temperature at any given moment.
If the Auras SLC-747 heatsink is used with a motherboard that does not support PWM (it is backwards compatible with 3-pin fan headers), the fan rotates at full speed. At full tilt the heatsink produces a moderately audible 52dBA noise - which isn't too loud, but isn't quiet either.
Auras SLC-747 Heatsink

---

heatsink specsheet
manufacturer: auras
model no.: slc-747
materials: aluminum, copper base and heatpipes
fan mfg: ys tech yd129025lb
fan spec: 700-2400rpm, 12v, 0.42a, pwm
fan dim: 25x95x95mm
heatsink & fan dim: 78x109x104mm
weight: 380 grams
includes: mounting hardware, instructions, thermal compound

---

Compatible with Sockets: 754/939/940/AM2 and socket 775
Est. Pricing: $30USD ($30CDN)
Auras' SLC-747 heatsink is assembled from about 50 thin aluminum fins with zippered interlocking tabs, four 6mm diameter copper heatpipes, and a block of copper for the base. The aluminum fins are rather squat, measuring ~8m tall, but that gives the heatsink a compact profile. The aluminum fins aren't nickel plated, so heatpipe-to-aluminum fin joints are not soldered. The copper heatpipes are soldered to the copper base.
Mounting Brackets from Behind
The Auras SLC-747 heatsink comes with two mounting brackets that allow it to be installed on Socket 775 Intel and socket 939/940/AM2/AM2+ AMD motherboards with a minimum of fuss. The brackets screw onto the copper base of the Auras SLC-747 with four screws, and after that installation is a tool-free affair.
Printed instructions are provided, but you won't need them. Faced with a pile of heatsinks lately that use unnecessarily complicated mounting hardware, Frostytech is really pleased to come across any heatsink that makes use of the standard AMD/Intel methods of attaching it to the motherboard.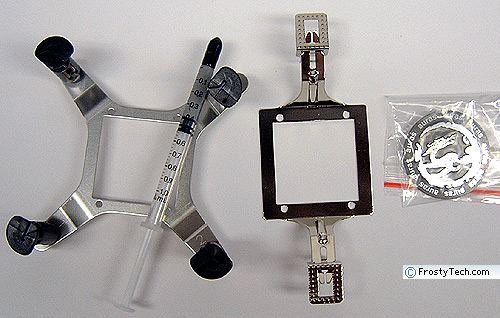 FrostyTech's Test Methodologies are outlined
in detail here
if you care to know what equipment is used, and the parameters under which the tests are conducted. Now let's move forward and take a closer look at this heatsink, its acoustic characteristics, and of course its performance in the thermal tests!