The Thermalright MST-9775 LE is an Intel Core 2 Duo socket 775 heatsink designed with motherboards whose MOSFET cooling solutions are a little too bulky and too close the processor socket. It circumvents obvious problems of clearance by elevating the bulk of the cooling fins 45mm above the base. With its use, MOSFET heatsinks and other electrical components will have the freedom to breath. These board mounted devices will also receive a healthy flow of cooler exhaust airflow from the MST-9775 LE's down-mounted 92mm PWM fan. Using exhaust air in this manner is an effective and oft under utilized means of cooling adjacent motherboard components without introducing more noise or extra fans into a PC.
The Thermalright MST-9775 LE is a two-heatpipe heatsink, and it doesn't have all that much in the way of surface area for cooling. The compact heatsink measures a modest 90mm tall, about 110mm square. It weighs 430grams.
Only the LGA775 mounting bracket is sold with the Thermalright MST-9775 LE heatsink, but there's nothing stopping it from being used with other Thermalright mounting brackets from what we can tell.
Thermalright MST-977 5LE Heatsink

---

heatsink specsheet
manufacturer: thermalright
model no.: mst-9775 le
materials: nickel plated aluminum fins, copper base and heatpipes
fan mfg: talent top ltd. dt1209lbhp
fan spec: 500-2500rpm, 12v, 0.18a
fan dim: 92x92x25mm
heatsink & fan dim: 90x110x117mm
weight: 430 grams
includes: thermal compound, mounting hardware, instructions

---

Compatible with Sockets: 775
Est. Pricing: $35USD ($35CDN)
Thermalright have a very good reputation for building heatsinks, but it seems as though the MST-9775 LE may suffer from a lack of sufficient cooling surface area. The heatsink performs at a fairly average level as you'll see on subsequent pages of this review. As with any heatsink, cooling capability is often a measure of airflow, surface area and the efficiency of whatever mechanism is conducting heat from the CPU to the cooling fins. If one of these mechanisms fails, for whatever reason, the performance of the heatsink on a whole is diminished.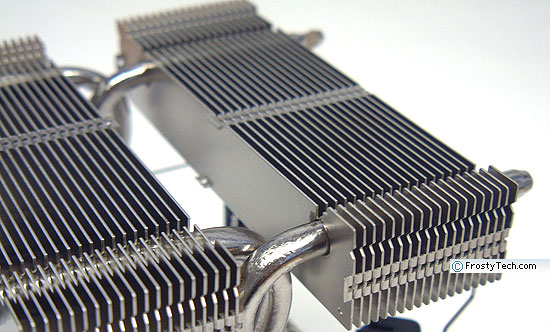 But let's not get too far ahead of ourselves in this Frostytech review of the Thermalright MST-977SLE heatsink. A 360 degree look at the cooler is next, and then we dive into acoustic and thermal reference charts which directly compare it to over 50 other heatsinks...
FrostyTech's Test Methodologies are outlined in detail here if you care to know what equipment is used, and the parameters under which the tests are conducted. Now let's move forward and take a closer look at this heatsink, its acoustic characteristics, and of course its performance in the thermal tests!