The Akasa AK-965 heatsink positions itself as the perfect stock Intel heatsink replacement. We'll have to wait for the temperature results before echoing such lofty words... but from the outset the AK-965 does tick off all the important criteria for a cooler these days: lower noise operation - check, lightweight and LGA775 installation - check, PWM fan speed control - check.
Akasa's AK-965 heatsink utilizes three "U" shaped copper heatpipes to connect a compact copper base block with widely spaced aluminum fins. It's 95mm PWM fan spins only as fast as needed to achieve good temperature control, and works well at moving air relatively quietly through the aluminum fins. Copper heatpipes are positioned close to the processor, and in the direct path of airflow at the other end. All good thermal design criteria in fact. Now if this heatsink looks familiar to you, it's because this arrangement of copper and aluminum works, so many other companies have released similarly built heatsinks.
The whole package weighs around ~520 grams, and is only Intel socket 775 compatible. This goes against the grain, but I suppose it allows Akasa to sell the unit for a good price, and that's always nice for budget-minded consumers.
Akasa AK-965 Heatsink

---

heatsink specsheet
manufacturer: akasa
model no.: ak-965
materials: aluminum fins, copper heatpipes, aluminum and copper base
fan mfg: akasa dfc922512m
fan spec: 600-2500rpm, 12v, 0.21a
fan dim: 25x95x95mm
heatsink & fan dim: 138x92x109mm
weight: est. 520 grams
includes: lga775 mounting clip

---

Compatible with Sockets: 775

Est. Pricing: $48USD ($52CDN)
The heatsink relies on the standard Intel push-to-lock clips which attach to the holes drilled in the motherboard around the CPU socket. Since the Akasa AK-965 heatsink isn't too heavy, this Akasa needn't bother with complex clipping systems and the user needn't remove the motherboard prior to installation.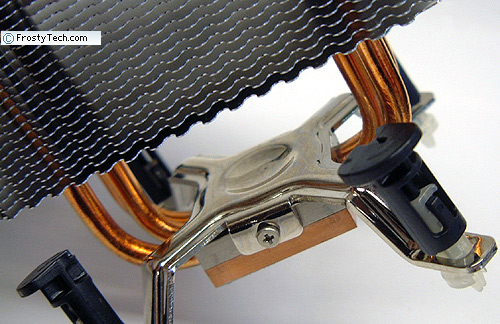 Behind the fan, which is mounted slightly off-center, is a special geometry on the leading edge of the aluminum fins. This wave pattern helps to add turbulence in the airflow and decrease laminar airflow over the flat aluminum fin surfaces. At least this is what we'd expect it does. ;-)

The Akasa AK-965 heatsink will be tested on FrostyTech's Intel LGA775 version of the Mk.II synthetic thermal temperature test platform, and compared against several reference LGA775 heatsinks. The whole test methodology is outlined in detail here if you'd like to know what equipment is used, and the parameters under which the tests are conducted. Now let's move forward and take a closer look at this heatsink, its acoustic characteristics, and of course its thermal performance!