We might as well get to the point in the first sentence of this review, the Enzotech Ultra-X performs really well on Intel and AMD processor platforms with its fan at full speed. It doesn't hurt that the Ultra-X has a large 120mm fan, plenty of aluminum cooling fins, and just enough large diameter heat pipes to get the job done. The heatsink eschews the typical 6mm diameter heatpipes for four 8mm diameter copper heatpipes, resulting in an increase in its capacity to move heat. In fact on FrostyTech's 85W synthetic thermal test platform that represents a stressed LGA775 Core 2 Duo processor, the Enzotech Ultra-X heatsink posted a single-digit rise above ambient temperature! That's something no other heatsink has done till now... Well, apart from the ECT Prometeia Mach 2 GT which has the all time lowest temperature result (now that's a review you've got to see!).
Enzotech is a subsidiary of a large thermal solutions manufacturer that specializes in metal forging, this partially explains the use of a forged aluminum part within the Ultra-X heatsink.
The Enzotech Ultra-X heatsink is compatible with AMD Athlon64 processors in socket 754/939/940/AM2 flavours and Intel Pentium 4/D, Core 2 Duo/Quad processors on socket 775. It should be available through most online retailers for about $60USD ($68CDN / £30GBP), and comes with a small fan speed controller and syringe of genuine Arctic Silver 5 thermal grease. Online stores like NewEgg have it.
Enzotech Ultra-X Heatsink

---

heatsink specsheet
manufacturer: enzotech
model no.: ultra-x
materials: aluminum fins, (4) copper heatpipes, forged aluminum and c1100 copper base
fan mfg: delta afb1212h-f00
fan spec: 1200-2500rpm, 12v, 0.35a
fan dim: 25x120x120mm
heatsink & fan dim: 113x125x147mm
weight: 835 grams
includes: multi-socket mounting hardware, screws, arctic silver 5 thermal compound, fan speed controller, printed instructions

---

Compatible with Sockets: 754/939/940/AM2, 775
Est. Pricing: $60USD ($68CDN / £30GBP)
What makes the Enzotech Ultra-X heatsink really stand out are the four heatpipes. These are 8mm diameter units, as we mentioned, and they are soldered to the forged copper base at the bottom. Resting on top of the copper is forged pin fin aluminum heatsink. This serves as a base for the AMD K8 clamping retention mechanism. It probably cools the base a little too, but most of the heat really does move through the heatpipes to the aluminum fins above. It doesn't come in contact with the four heatpipes.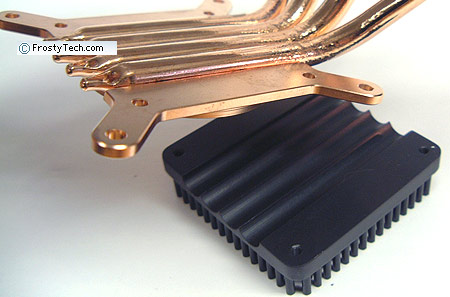 There is no thermal compound between the 60x60mm forged pin fin aluminum heatsink and copper portion of the base, and there shouldn't be either. While the cap is textured to increase its surface area, the thin aluminum fins above are a more efficient means of removing heat from the system than a pin fin heatsink. The thinking of Enzotech's engineers was probably along these lines; it's more efficient to have a cap to distribute the load forces to the base evenly, that sheds some heat energy rather than a block which would just store it.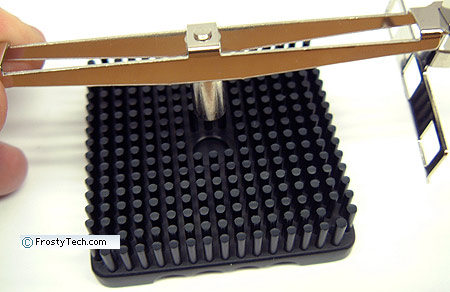 Brackets for Every Processor Socket
The Enzotech Ultra-X heatsink ships with a mounting bracket for socket 754/939/940 and AM2 AMD Athlon64 processors, and a special cut-down K8 retention frame. Only this frame can be used with the Ultra-X heatsink. The socket 775 Intel CPUs mounting bracket attaches from the rear, and four small spring-tensioned screws then apply the necessary force. Installation on Intel motherboards will require removing the motherboard from the chassis to install the back plate.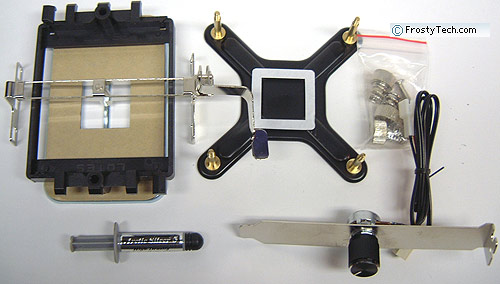 The fan speed control fits into any free PCI slot, and allows the user to dial in the speed of their choice. The only problem is that the last 1/3rd of the dial's range toward the quieter side doesn't provide enough voltage to the fan. Instead of spinning slowly, the 120mm Delta fan just stalls. Since it is hard to tell exactly what point is too low (in terms of voltage to the fan), we would advise you not to use the included fan speed controller with the Enzotech Ultra-X heatsink at all.
The Enzotech Ultra-X heatsink will be tested on FrostyTech's Intel LGA775 and K8 version of the Mk.II synthetic thermal temperature test platform, and compared against several reference LGA775 and K8 heatsinks. The whole test methodology is outlined in detail here if you'd like to know what equipment is used, and the parameters under which the tests are conducted. Now let's move forward and take a closer look at this heatsink, its acoustic characteristics, and of course its thermal performance!