FrostyTech Mk.II Synthetic Thermal Heatsink Test Results

---

Intel Pentium D / Extreme Edition & Quad Core class heatsinks tested at 150W
Intel Core 2 Duo / Pentium 4 / Celeron class heatsinks tested at 85W
Results based on readings from a 30x30mm copper interface die with 150W and 85W heat loads applied on the LGA775 version of the Mk.II Test Platform. Temperature results listed for each heatsink were calculated by determining the rise over ambient temperatures at time of test. Information on Frostytech's test methodology is available here.
Socket 775 compatible CPU heatsinks

manufacturer:
model no.:
fan speed:
150w
thermal test* (°c)
85w
thermal test (°c)
noise level (dba)

---

Thermalright
Ultra 120
17.8
10.6
53.7
Zalman
CNPS9700 LED
high
19.0
10.4

56.5

Enzotech
Ultra-X
high
20.0
8.5
59.1
Apack
Zerotherm BTF90
21.8
12.7
52.1
Apack
Zerotherm BTF80
22.8
13.9
51.9
Akasa
AK-920
high
24.3
14.1
52.9
Thermalfly
F1-IACSHA
high
29.0
18.3
60.4
Zalman
CNPS9500 AT
29.6
17.3
53.3
Alpha Novatech
PRE9060M92P
high
29.9
18.5
51.5
Enzotech
Ultra-X
low
30.0
15.5
40.1
Akasa
AK-961
30.0
18.7

60.7

nPowertek
NPH-775-1
30.1
18.8
50.1
Sunon
Waturbo
30.6
18.3
57.5
Apack
CF800
high
31.4
20.7
48.4
Thermaltake
Jungle512
high
31.6
20.4
60.8
Xigmatek
AIO-S80DP
high
32.4
21.4
55.0
Zalman
CNPS7700-Cu
high
32.9
19.7
50.7
Apack
CF900
high
32.9
20.3
48.3
Evercool
PT02-9232CP
33.3
19.9
63.3
Zalman
CNPS7700-Cu LED
high
33.5
20.6
49.8
Intel
Stock Pentium D
high
33.8
20.7
47.5
nPowerTek
SF775-2
high
34.7
21.1
64.6
Akasa
AK-960E
36.1
21.4
56.3
Thermalfly
I75DUH
37.8
22.8
48.7
Cooljag
OAK-H
high
38.5
22.9
55.7
Cooljag
OAK-H2
high
38.6
24.1
55.6
Intel
Stock Pentium D
low
40.3
23.9
40.5
150w
thermal test (°c)
85w
thermal test (°c)
noise level (dba)
*heatsinks are ranked according to the 150w thermal test results column (rise over ambient temp.). low temperatures with low noise levels are considered best. for reference heatsinks with variable-speed fans, only the high speed (12v) fan test result is included in the comparison sheet; more detailed results reside in each specific heatsink review.
intel processors vary widely in heat output between single and multi-core processors, so we rely on two values which represent the upper limit of both existing cpu families to test thermal solutions.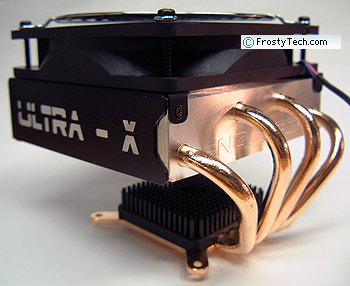 With a 150W heat load applied by the Intel LGA775 version of FrostyTech's synthetic thermal test platform, the Enzotech Ultra-X heatsink yields an excellent rise above ambient temperature of only 20°C, with 59.1dBA noise. That thermal test result immediately puts the Ultra-X heatsink in the top 10, with the likes of Thermalright's Ultra-120 and Zalman's CNPS9700-LED.
When fan speed is dropped down to 1200RPM, the temperature on the 150W test die rises to 30.0°C over ambient. Noise levels fall to a fairly quiet 40.1 dBA.
The Enzotech Ultra-X heatsink was also tested with an 85W heat load. In this situation at stock fan speeds, the heatsink maintains a fantastically low 8.5°C result over ambient temperature! When the fan is again dialed down to 1200RPM, the Ultra-X heatsink reacts in a predictable manner but CPU die temperature rises only to 15.5°C over ambient.
In both these cases, the Enzotech Ultra-X heatsink maintains the lowest temperature of any Intel LGA775 heatsink FrostyTech has tested on the 85W synthetic thermal test platform to date! When tested with a 150W heat load, the Ultra-X is firmly in the Top 10 heatsinks of both AMD and Intel classes. Enzotech and their large parent company have certainly produced a really winner here, the Ultra-X heatsink is one of the coolest running Intel and AMD compatible thermal solutions out there. Recommended.
Related Articles:
For more reviews on the latest heatsinks and cooling solutions, rely on FrostyTech's inventory of 350+ heatsink reviews. Here are a few other articles that you might enjoy as well...
- Xigmatek AIO-S80DP Self-Contained Watercooling Heatsink Review
- TTIC nPowerTek NPH-K8 Big Heatsink Review
- Cooljag OAK-H Radial Skived Copper Fin Heatsink Review
- TTIC nPowerTek NPH-K8 Big Heatsink Review
- Thermaltake Jungle 512 Bifurcated Fin Heatsink Review
- Akasa EVO 120 AK-920 Low Noise Heatsink Review
- Akasa AK-960E Socket 775 Heatsink Review
- Apack Zerotherm CF900 Socket 775 Heatsink Review
- Alpha Novatech PRE9060M92P Socket 775 Core 2 Duo Heatsink Review
- Zalman CNPS7700-Cu LED Low Noise Heatsink Review
- Zalman CNPS9700 LED Low Noise Heatsink Review
- nPowerTek NPH SF775-2 Radial Fin Socket 775 Heatsink Review