The Thermal Transtech International Corp. (TTIC) nPowerTek NPH-K8 Big heatsink is a huge low noise cooler, but in fact it's that large size which allows it to operate without too much noise. The nPowerTek NPH-K8 Big is a deceptively simple combination of heat column and aluminum fins, intended for a Socket 754/939/940 AMD Athlon64 processor near you. At the heart of this heatsink is a huge copper cylinder; this is the heat column. The heat column is a 33mm diameter hollow copper cylinder which is vacuum sealed, creating the ideal environment for a special chemical coating on the inside that "superconducts heat axially at a molecular level." The technology works on a related concept to traditional heatpipes, but is physically different and should not be confused with the latter.
The 148mm tall copper heat column absorbs heat from the processor core, transferring it up through the center of approximately 45 thick gauge aluminum cooling fins of 125 x 77mm in size. A single 120mm fan blows air tangentially across the aluminum fins at a moderate pace, without introducing much noise.
In spite of its large volume, nPowerTek's NPH-K8 Big heatsink only weighs in at about ~500 grams. The heatsinks ships unassembled with the 120mm Martech fan, a couple of springy wire clips facilitate its installation. Alternatively, if you have a nice quiet 120mm on hand, you could easily customize the nPowerTek NPH-K8 Big heatsink to the fan of your choice - so long as it's the same frame size and thickness.
TTIC nPowerTek NPH-K8 Big Heatsink

---

heatsink specsheet
manufacturer: thermal transtech int'l Corp. / nPowerTek
Model No.: TTIC NPH-K8 Big
Materials: Aluminum fins, copper heat column.
Fan Mfg: Martech D71202512SZ2N
Fan Spec: 1600RPM, 12V, 0.25A
Fan Dim: 25x120x120mm
Heatsink & Fan Dim: 148x127x103mm
Weight: ~500 grams est.
Includes: K8 mounting hardware, fan spring clips, 120mm fan, thermal compound.

---

Compatible with Sockets: 754/939/940 (this revision not AM2 compatible)
Est. Pricing: $40USD ($49CDN)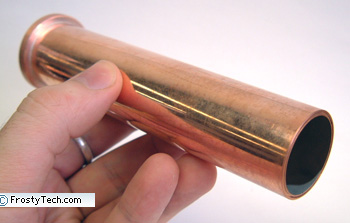 TTIC have designed the nPowerTek NPH-K8 Big with widely spaced aluminum fins, allowing lower velocity air to move through the body of the cooler with less resistance. By combining this technique with a large, slow RPM 120mm fan, a sufficient amount of air can be moved through the heatsink without generating significant noise.
The joint between each aluminum fin and the copper heat column is a simple interference fit, which provides a good mechanical connection but is not as ideal as soldered joints. The heatsink is held in place on the motherboard with a set of spring-tensioned screws that bolt into any socket 754/939/940 retention plate. The mounting hardware is uncomplicated, and very easy to set up and install within a fully installed computer.
The only you'll want to be careful of is not over tightening the two mounting screws. Since the copper base of the heat column and aluminum mounting frame are just about flush, too much tightening can bend the aluminum and cause the base of the heat column to lift off the CPU ever so slightly. After the heatsink is installed, the last component to go on is the fan, pretty easy really.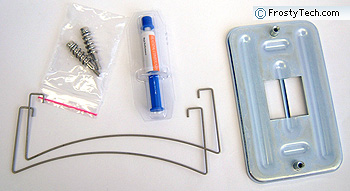 The nPowerTek NPH-K8 Big heatsink ships with a bracket AMD K8 processors (754/939/940 respectively). A separate heatsink revision for socket AM2 should be available shortly from the manufacturer.
We would have liked to have seen the inclusion of some rubber anti-vibration strips to attach to the rear of the fan frame to prevent possible vibrations from cropping up down the road.
For example, the Thermalright Ultra-120 heatsink is quite similar to the NPH-K8 Big heatsink, and it wisely makes use of these simple rubber strips to prevent such annoyances from occuring. nPowerTek provide two special wire clips to hold the fan in place, and they will only reliably work with 120mm x 25mm sized fans.
Now, let's take a quick look at an actual heat column and explain a little about what these are exactly...