FrostyTech Mk.II Synthetic Thermal Heatsink Test Results

---

AMD Athlon64 / FX / X2 & Sempron class heatsinks
Results based on readings from a 38x38mm copper interface die with 125W heat load on the K8 version of the Mk.II Test Platform. Temperature results listed for each heatsink were calculated by determining the rise over ambient temperatures at time of test. Information on Frostytech's test methodology is available here.
Socket 939/940/754 & AM2 compatible CPU heatsinks

manufacturer:
model no.:
*fan speed:
125w thermal test (°c)
noise level (dba)

---

Thermalright
Ultra-120
12.4
53.7
Zalman
CNPS9700 LED
high
16.5
56.5
AVC
Z7U7414001 (stock AM2)
high
17.0
63.0
Noctua
NH-U12
17.5
45.4
Gigabyte
GH-PCU23-VE
high
17.5
65.6
Gigabyte
G-Power Pro
high
18.6
71.9
Noctua
NH-U9
18.8
58.4
Apack
Zerotherm BTF90
20.5
52.1
Coolermaster
Hyper6
high
20.5
54.7
Apack
Zerotherm BTF80
21.3
51.9
Thermaltake
Venus 12
high
21.7
68.1
Cooljag
SFO-Q
high
22.2
60.6
ASUS
Starice
high
22.8
67.4
Zalman
CNPS9500 AM2
high
23.0
53.2
Arctic Cooling
Freezer 64 Pro
23.2
50.9
Coolermaster
Aquagate Mini
high
23.2
59.2
Thermaltake
Polo 735
high
23.4
68.0
Cooljag
SFO-H
high
23.6
60.6
Alpha
PAL-8150
23.7
58.9
Zalman
CNPS9500 LED
high
23.8
50.3
Verax
Helado
24.3
36.3
AVC
Z7U3301001 (stock 939)
high
24.6
59.9
Zalman
CNPS8000
high
24.8
57.4
Gigabyte
3D Cooler-Ultra
high
24.8
63.0
OCZ
Tempest
26.0
51.6
Scythe
Shogun
high
26.0
45.9
EKL
V8
high
26.3
57.5
Thermalfly
F1-IACSHA
high
26.6
60.4
Zalman
FS-C77
26.7
56.5
Gigabyte
3D Rocket-Pro
high
26.9
56.7
Zalman
CNPS7700-Cu
high
27.0
50.7
Gigabyte
3D Cooler-Pro
high
27.0
62.5
nPowerTek
NPH-Big K8
27.8
54.0
Zalman
CNPS7700-Cu LED
high
28.1
49.8
Akasa
AK-873
high
28.2
59.2
Spire
SP601B3
28.3
48.9
Ajigo
MF064-074
high
28.8
60.3
Gigabyte
3D-Rocket
28.9
50.7
Vantec
Mach1
high
29.2
56.9
CoolJag
SFO-D(18SC)
29.6
64.0
Antazone
AS-C1000
30.2
57.6
Arctic Cooling
Alpine 64
30.5
43.9
Zalman
CNPS7000A-Cu
high
30.3
45.2
Dynatron
SK-V24
30.3
56.4
Verax
Quattro 1
high
30.7
55.4
Zalman
CNPS7000-Cu
high
31.0
45.2
Coolermaster
Hyper48
31.7
43.6
Scythe
Kama SCKK1000
31.9
47.5
Scythe
Samurai SCSM1000
high
32.1
51.6
Zalman
CNPS7000B-CU
high
32.3
44.9
Thermaltake
Silentboost K8
32.3
49.7
Jetart
JAX801
33.2
53.5
Dynatron
A22
34.5
44.5
nPowertek
NPH K8-1
34.6
52.2
Ajigo
MF043-044 (stock 754)
35.0
45.4
Arctic Cooling
Silencer 64 Ultra TC
37.5
55.5
Gigabyte
NeonCooler 8-BL
37.7
42.0
Titan
TTC-K8ATB/825/SC
38.7
63.1
Akasa
AK-860SF
39.4
45.2
Evercool
K802-715
42.1
51.5
Spire
SP741B3
43.2

45.6

Evercool
Magic Cooler
46.6
55.5
ASUS
Starice
low
92.4+
34.4
125w thermal test (°c)
noise level (dba)
*heatsinks are ranked according to the 125w thermal test results column (rise over ambient temp.). low temperatures with low noise levels are considered best. for reference heatsinks with variable-speed fans, only the high speed (12v) fan test result is included in the comparison sheet; more detailed results reside in each specific heatsink review.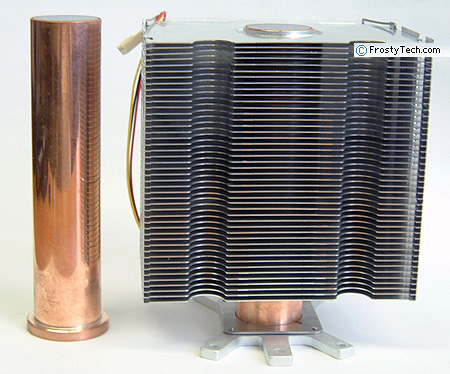 With a 125W heat load applied by the FrostyTech synthetic thermal test platform, the nPowerTek NPH-K8 Big heatsink yields a rise above ambient temperature of 27.8°C, with 54.0 dBA noise generated. The results shown here are valid only with the 120mm Martech D712025125Z2N fan we used; if you swap it out for another unit in an effort to produce less noise the thermal values may change.
On the whole, the thermal performance of the nPowerTek NPH-K8 Big heatsink is slightly lower than the stock socket 393 AVC Z7U3301001 heatsink (a difference of 3.2°C) and better than the old standard socket 754 Ajigo MF043-044 heatsink (a difference of 7.2°C).
The TTIC nPowerTek NPH-K8 Big is a good mid-level AMD K8 heatsink, situated almost at the dead center of this reference list in fact. Noise levels are pretty moderate too, and comparable to heatsinks which run warmer. Unfortunately, this version of the product is not socket AM2 compatible.
Given the opportunity, there are three changes FrostyTech would make to this heatsink. First we would alter the aluminum mounting bracket so it is not flush with the base of the copper heat column. Second, those aluminum fins would get a nice nickel plating allowing them to be soldered directly to the copper column, and ensuring a better thermal interface. Lastly, we'd add some texture and geometry to the straight flat aluminum fins to enhance heat transfer. nPowerTek is certainly on the right path here, but the NPH-K8 Big heatsink still feels like it could do well with a few additional refinements....
Related Articles:
For more reviews on the latest heatsinks and cooling solutions, rely on FrostyTech's inventory of 350+ heatsink reviews. Here are a few other articles that you might enjoy as well...
- Zalman CNPS8000 Low Noise Heatsink Review
- OCZ Tempest Heatsink Review
- Verax Helado PWM-T Low Noise Heatsink
- Apack ZeroTherm BTF80 Heatsink Review
- Apack ZeroTherm BTF90 Copper Heatsink Review
- Verax Quattro 1 Ultra-Quiet Heatsink Review
- AVC Z7U7414001 Athlon64 Socket AM2 / 939 Heatsink Review
- Cooljag SFO-Q Socket AM2 / 939 Heatsink Review
- Zalman CNPS9500-AM2 Socket AM2 Low Noise Heatsink
- nPowertek TTIC NPH K8-1 Heatsink Review
- Spire VertiCool II SP601B3 AMD Athlon64 Heatsink
- Scythe Samurai SCSM-1000 Heatsink Review
- Gigabyte 3D Rocket Cooler-Pro PCU22-VG Heatsink Review
- Scythe Shogun Low Noise Heatsink Review