The Cooljag OAK-H2 heatsink, also known as the 'JAC84MC,' is a unique thermal solution for a couple of reasons which are not immediately obvious. The heatsink is entirely copper, constructed from a ring of skived copper fins that have been wrapped around a central copper column and soldered together. Traditionally, skived copper fins are only used in linear applications, most often long rows under a powerful fan. Owing to the demands of the socket 775 Intel processor, skiving technology has been developed to remain relevant.
As thermal designers work within the LGA775 motherboard mounting points and height restrictions to producing something that will keep your CPU running cool, boring old square heatsinks just don't cut it anymore for an Intel Core 2 Duo or Pentium D. CoolJag's approach with the OAK-H2 heatsink was to adapt the skived fins by turning everything on its side. The end solution is nearly identical in proportion to the powerful stock Intel Pentium D heatsink, yet we'll have to wait for the test results to see if the tangential airflow helps or hinders the Cooljag OAK-H2's capabilities. On the plus side, the central copper column makes direct contact with the CPU core, and the skived component which is soldered on to it radiates the heat out into the surroundings so the thermal pathway is pretty direct.
The Cooljag OAK-H2 heatsink is equipped with a 93mm 12VDC fan (4-pin pulse width modulation compliant) that scales its speed between 1800-3500RPM, generating ~66CFM according the CoolJag's tech specs. The Cooljag OAK-H2 heatsink weighs a hefty 714 grams, necessitating a fixed mounting clip that screws into a metal motherboard rear support plate (supplied) via four spring-tensioned screws. Installation and removal of this heatsink requires the motherboard to be taken out of the chassis. As always, that's never a fun task.
The 93mm diameter fan is controlled by the BIOS on PWM compatible motherboards. Unfortunately with legacy boards the fan defaults to its lowest possible speed, which is on the order of 600-1800RPM.... woefully inadequate as you'll soon see. Quiet is nice, but quiet firey infernos are not...
Cooljag OAK-H2 (JAC84MC) Heatsink

---

heatsink specsheet
manufacturer: cooljag
model no.: oak-h2 (jac84mc)
materials: c1000 copper skived fins, copper base.
fan mfg: everflow f128025du
fan spec: 1800-3500rpm, 12v, 0.24a
fan dim: 25x93x93mm, pwm
heatsink & fan dim: 68x96x96mm
weight: 714 grams
includes: mounting hardware, thermal compound, rear support bracket

---

Compatible with Sockets: LGA775
Est. Pricing: $37USD ($42CDN)
Since this is Frostytech, we're giving you a closer look at what makes the Cooljag OAK-H2 heatsink interesting from a technical standpoint. The basic principles on which it is built appear sound, and with the right kind of fan thermal performance could certainly improve.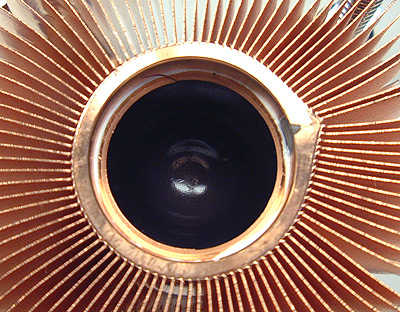 The Cooljag OAK-H2 heatsink has an outer ring of skived copper fins as you can see above, and a central copper cylinder 33mm in diameter which is partially hollowed out. This is done to reduce the amount of heat this center of the heatsink stores, so it acts more like a highway for heat rather than a parking lot. The processor makes direct contact with that copper block, and it in turn spreads the energy so the copper fins can work more efficiently at transferring it to the surrounding environment. This is the same basic design principle used by Intel RCBFH-3 reference thermal solution.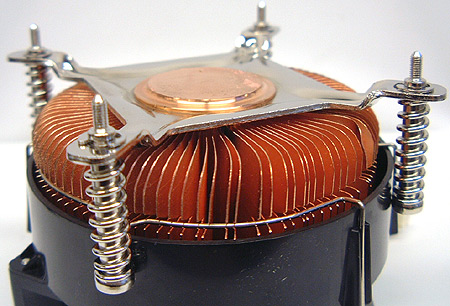 The Cooljag OAK-H2 heatsink will be tested on FrostyTech's new Intel LGA775 version of the Mk.II synthetic thermal temperature test platform, and compared against several reference LGA775 heatsinks. The whole test methodology is outlined in detail here if you care to know what equipment is used, and the parameters under which the tests are conducted. Now let's move forward and take a closer look at this heatsink, its acoustic characteristics, and of course it performance in the thermal tests!