I've been testing heatsinks since 1999, and I would have to say this is the first instance I can think of where a heatsink has been endorsed by a 'celebrity'. In this case it's a professional gamer by the name of Johnathan "Fatal1ty" Wendel. Mr. Wendel's name has spawned a niche market of "Fatal1ty" endorsed motherboards, sound cards, cases, mice and countless other computer hardware deemed suitable for gamers to go out and buy... all in a nice shade of blood red. Sw33t!
A few years back at CES I was introduced to Fatal1ty at a quickie ABIT press conference in the Hilton hotel adjacent to the LVCC - that day marked the start of a partnership where 'Fatal1ty' would consult with certain companies to come out with gamer friendly motherboards, or heatsinks as is this case. Thus far the guiding mantra of Fatal1ty branded products seems to be consistent in its support of gaming-oriented gear that (possibly) overclocks better, sounds louder, runs pimpy-er, and crunches numbers cooler.
The Zalman Fatal1ty FS-C77 heatsink is the Zalman CNPS7700-Cu heatsink with a coat of red lacquer applied and a slightly beefier 120mm red LED illuminated fan. The two heatsinks are compatible with the same variety of processors, but the CNPS7700-Cu is skewed for silent running while the FS-C77 ships without the Fanmate 2 fan speed controller. Apart from these three differences, the two heatsinks are identical in every other way. Neither supports socket AM2 processors as of this writing.
The Zalman Fatal1ty FS-C77 is a large cooler by any measure, and unlike every other Zalman heatsink this one is entirely tuned for performance. It's translucent 120mm fan rotates at 2400RPM, and a series of red LEDs light up the blades nicely in a darkened case. The offset is 56.5 dBA noise according to our real world measurements. The all copper FS-C77 heatsink weighs in at a hefty 918 grams. It is compatible with socket 478 & 775 Intel Pentium and Core 2 Duo processors, and socket 754/939/940 AMD Athlon64 CPUs.
Zalman Fatal1ty FS-C77 Heatsink

---

heatsink specsheet
manufacturer: zalman
model no.: fs-c77
materials: copper fins, aluminum.
fan mfg: zalman zf1225btx
fan spec: 2400rpm, 12v, 0.45a
fan dim: 25x120x120mm
heatsink & fan dim: 67x136x136mm
weight: 918 grams
includes: multi-socket mounting hardware and retention frames, instructions, thermal compound.

---

Compatible with Sockets: 478/775, 754/939/940
Est. Pricing: $63USD ($71CDN)
The Zalman Fatal1ty FS-C77 heatsink is created from about 60 individual copper fins which are joined together at the center; the metal fins are compressed under great pressure and bolted firmly together to create the resulting heatsink shape. This is Zalman's famed 'flower' heatsink technology, and it's an ideal method of manufacturing coolers with very direct thermal pathways between the cooling fins and heat source. The FS-C77 receives a little extra dose of style via a thin red-tinted clear lacquer coat over its entire surface. The base of the cooler remains free of the paint, so we have good metal-to-metal contact between the heatsink and processor's integrated heat spreader.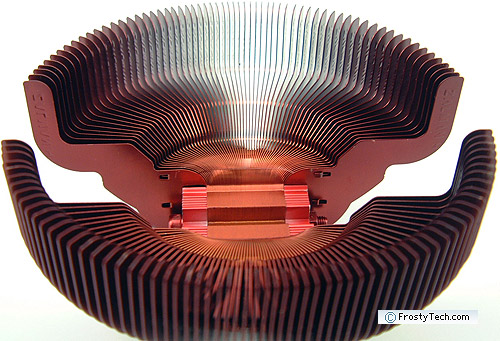 Ironically, the red tint probably offers some marginal impediment to the thermal conduction of heat energy between the air flow and surface of the copper fins. Whatever that value is, it's probably not too significant.
Accessories included with the Zalman Fatal1ty FS-C77 heatsink consist of mounting hardware for socket 754/939/940 and socket 478/775 processors, some cardboard washers to protect the motherboard, and a small tube of thermal compound. As always, the documentation included with the heatsink is excellent and very clearly illustrated.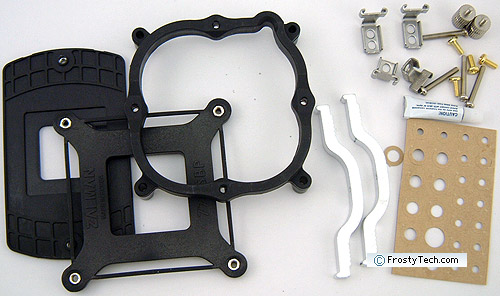 FrostyTech's K8 Test Methodology is outlined in detail here if you care to know what equipment is used, and the parameters under which the tests are conducted. Now let's move forward and take a closer look at this heatsink, its acoustic characteristics, and of course it performance in the thermal tests!