The Zalman CNPS7700-Cu is one of the largest heatsinks in production by this Korean manufacturer, and like most Zalman coolers it is squarely aimed at low noise operation. The CNPS7700-Cu is an extension of the CNPS7000-Cu series, though it is about 30mm larger in total diameter, and weighs in at a hefty 918 grams. The heatsink is compatible with socket 478 & 775 Intel Pentium and Core 2 Duo processors, and socket 754/939/940 AMD Athlon64 chips. Socket AM2 is not supported.
Zalman assemble the CNPS7700-Cu heatsink from about 60 individual copper fins which are joined together at the center; the metal fins are compressed under great pressure and bolted firmly together to create the resulting heatsink shape, sort of like advanced origami. This is Zalman's famed 'flower' heatsink technology at its best, and it's a method of manufacturing that offers very direct thermal pathways between the cooling fins and heat source.
Each individual copper fin comes in direct contact with the processor's integrated heat spreader, which reduces elements of thermal resistance from entering into the overall thermal equation. Coupled with a large slow moving fan, the Zalman CNPS7700-Cu uses its sheer amount of surface area to cool with a minimum of noise creation.
Zalman CNPS7700-Cu Heatsink

---

heatsink specsheet
manufacturer: zalman
model no.: cnps7700-cu
materials: copper fins, aluminum.
fan mfg: zalman zf1225ath
fan spec: 1000-2000rpm, 12v, 0.35a
fan dim: 25x120x120mm
heatsink & fan dim: 67x136x136mm
weight: 918 grams
includes: fanmate 2 fan speed controller, multi-socket mounting hardware and retention frames, instructions, thermal compound.

---

Compatible with Sockets: 478/775, 754/939/940
Est. Pricing: $40USD ($45CDN)
Where a 90mm fan was used on the CNPS7000-series, this time around we find a 25x120x120mm fan spinning at 1000-2000RPM. While abundant amounts of copper have always been looked upon favorably in heatsink, the abundance of heavy metal does push the CNPS7700-Cu pretty close to the 1 Kilo mark...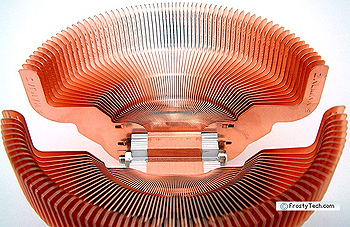 In typical Zalman fashion, the CNPS7700-Cu is a low noise heatsink that can be made even quieter with the use of the included FanMate 2 fan speed controller. When used, the Fanmate 2 drops the speed of the integrated 120mm fan impeller from 2000RPM to about 1000RPM, by varying the voltage from 11V to 5V and so making it barely audible.
The CNPS7700-Cu heatsink comes with mounting brackets for Intel Pentium D/Core 2 Duo, and AMD Athlon64 processors. This means if you plan on upgrading from a Pentium D to an Athlon64 processor in the near future you won't have to buy a whole new heatsink when you do.
As the Zalman CNPS7700-Cu is both a large and heavy copper heatsink, Zalman has developed a strong retention system for the 918 gram heatsink. Spring clips are out, and in their place are two 7mm wide aluminum bars for socket 478 processors, and screw-in-place solutions for Socket 775 and Socket 754/939/940 processors.
The two aluminum bars slide into the clip spaces in a standard Pentium 4 heatsink retention frame, after which the entire heatsink is dropped into the socket and screwed down in place. An integrated flat spring mechanism holds the heatsink down and applies the correct mounting pressure to the processor core.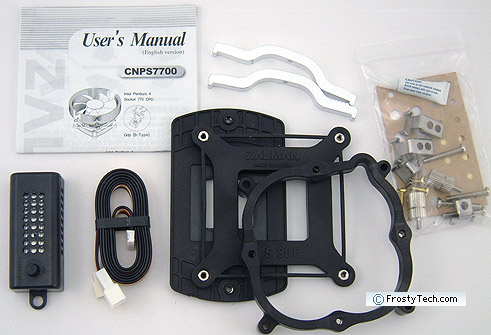 With the Socket 754/939/940 system, two small standoffs screw into the standard metal support plate on every Athlon64 motherboard. The spring clip on the CNPS7700-Cu then firmly screws into each mounting post. With the socket 775 processors a special heatsink retention frame is first installed on the motherboard, before the CNPS7700-Cu is attached to it with a pair of screws.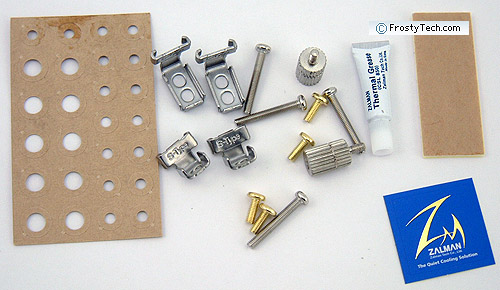 Rounding out the list of included items are plenty of paper washers to protect the motherboard PCB, and a small tube of thermal compound.
Zalman Fanmate 2 Fan Speed Controller
Zalman bundle in a manual fan speed controller with just about every heatsink it sells these days. The Fanmate 2 gives users an adjustable dial to control the speed of a fan connected to the small device, which is great for individually dialing down the speed of certain fans to suit your environment. The Fanmate 2 unit is rated for fans drawing up to 6W power, and will output ~11V to 5V depending on where the dial is set to.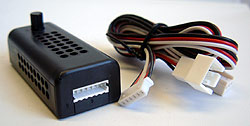 Measuring 70 x 26 x 26mm in size, the black plastic Fanmate 2 box controls a single fan via a 3-pin power connector. Currently, there is no solution for 4-pin PWM fans on the market.
At the Fanmate 2's maximum speed setting (loudest noise, fastest RPM) the unit offers a slight amount of resistance so the fan will not spin quite as fast as if it were not attached (the difference is about 5%). On the lowest speed setting (quietest noise, lowest RPM) the fan should be running essentially silently with just 5V being delivered. It is important to only use the Fanmate 2 with good quality fans that can restart by themselves if the fan stalls.
FrostyTech's K8 Test Methodology is outlined in detail here if you care to know what equipment is used, and the parameters under which the tests are conducted. Now let's move forward and take a closer look at this heatsink, its acoustic characteristics, and of course it performance in the thermal tests!