The AVC Z7UB301 heatsink is one of the first stock Socket 754 heatsinks AMD shiped with its processors, and it is currently used with most Socket 939 Athlon64 CPU models too. While its name lacks any mention of 'extreme,' 'whisper,' 'ultimate,' or some other such stereotypical marketing sloganry... it is a damn fine heatsink. That, in spite of its complex alpha-numeric 'Z7UB301001' nomenclature.
Asia Vital Corporation (AVC) itself is one the largest heatsink manufacturers in the industry, but primarily so in an OEM capacity. The company produces several models of stock Intel and AMD heatsinks, in addition to a variety of after market models. In our experience, AVC's heatsinks are designed and built with reliability and cost in mind, so they perform well at a generally affordable price point. Adding 'bling' and superfluous extras are not on the agenda... which is exactly what FrostyTech likes to see - emphasis on thermal performance!
AVC Z7UB301001 'AMD Reference' Heatsink

---

heatsink specsheet
manufacturer: avc
model no.: z7ub301001
materials: crimped aluminum fins inserted into grooved copper base plate.
fan mfg: avc ds07020b12u
fan spec: 2900-5400rpm, 12v, 0.70a
fan dim: 20x70x70mm
heatsink & fan dim: 59x78x72mm
weight: 450 grams (est.)
includes: pre-applied thermal paste, mounting frame hardware and pcb support plate.

---

Compatible with Sockets: 754/939/940
Est. Pricing: $25USD ($30CDN)
As a reference heatsink for AMD, the AVC Z7UB301 heatsink meets a variety of positive thermal and acoustic criteria. It utilizes a thermally reactive fan that scales back its speed dependent on ambient case temperatures (ie. until genuinely required), resulting in quiet cooling on the whole.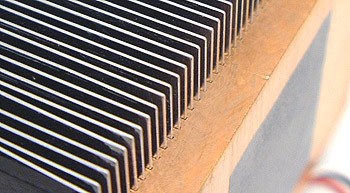 Regrettably, the fan lacks a wire grill to prevent errant wires from getting entangled, and this is a little concerning.
The design of the AVC Z7UB301 is so simple it's surprising more companies are not following suit. It uses a solid copper base plate with swaged high-density aluminum fins, and a fan above. That's all there is to it. This provides a very compact thermal platform that can scale with the amount of air moving through its fins.
However, I suspect AVC could have improved on this design even further by utilizing a triangular shaped bar of copper...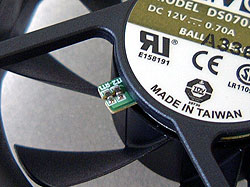 Testing this heatsink was a little tricky, because of the thermistor tied into the fan motor.
It adjusts the speed of the impeller based on the ambient air temperature, and so we had to short out those contacts to push the AVC Z7UB301 heatsink into its maximum operating speed. FrostyTech's Test Methodology is outlined in detail here if you would like to know about the parameters under which this heatsink will be evaluated. Now let's take a closer look at the AVC Z7UB301 heatsink, its acoustic characteristics, and thermal test results!