With an abundance of heatpipe-infused copper heatsinks up for sale these days, it's easy to forget that there are other ways to make a slab of metal a great conductor of heat into the surrounding atmosphere. High aspect ratio swaged fins used to be one means, but were long ago replaced by stacked fins and subsequently skived fins. Skiving is a relatively new metal working technique, and it has all but disappeared from the latest crop of heatsinks for some reason. The skiving process involves slicing chips of metal from a solid block of aluminum or copper so that they remain firmly attached at one end, generally left upright and straight. It's very similar to the act of hand planning a block of wood, except the shavings are shorter and remain attached. Fin pitches of 1mm or less, and fin thickness of 0.3mm, are typical.
The benefit of a skived heatsink has always been the lack of a thermal joint between the fins and base - eliminating an aspect of thermal resistance from the overall equation. Solder or adhesive bonds impart some resistance to heat energy moving from a heatsink base to its fins because the bonding material is not as thermally conductive.
Designed properly, a skived aluminum heatsink can leave an extruded aluminum heatsink in the dust. If any company has perfected the skived heatsink it would have to be Dynatron. The latest example of the companies' skived Socket 754/939 AMD Athlon64 heatsink line recently arrived at FrostyTech for testing, it's called the Dynatron A41 (a.k.a. SKV24) heatsink.
Dynatron A41 (SK-V24) Heatsink

---

HEATSINK SPECSHEET
Manufacturer: Dynatron
Model No.: A41 (a.k.a SKV24)
Materials: V-shaped skived A6063 aluminum, copper base insert.
Fan Mfg: Top Motor DF1207BH-4
Fan Spec: 4300RPM, 12V, 0.395A
Fan Dim: 15x70x70mm
Heatink & Fan Dim: 45x79x78mm
Weight: 342 grams

Includes: Thermal paste, plastic K8 retention frame, screws, steel back plate.

---

Compatible with Sockets: 754/939/940
Est. Pricing: $26USD ($30CDN)
The Dynatron A41 is a low profile 2U server capable (it's 45mm tall) V-shaped skived aluminum heatsink with a copper base insert. The heatsink employs a very effective design technique, where by the fins are not of equal depth from side to side. The base of the heatsink has an inverted "V" shape to it (a large flat triangle), and the fins jet out at right angles.

A recess at the center of the Dynatron A41 heatsink provides space for the clip system, and is flanked by the edges of the skived fins which form a flattened V-shape. This method of increasing the thickness of a heatsinks' base at the center of the cooler, and having it gradually thin out towards the edges is very effective. The only reason the technique isn't used more often is because it isn't possible with extruded heatsinks.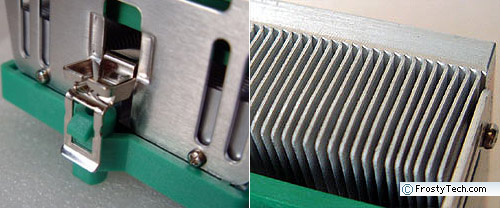 FrostyTech's Test Methodology is outlined in detail here if you care to know what equipment is used, and the parameters under which the tests are conducted. Now let's move forward and take a closer look at the Dynatron A41 skived heatsink, its acoustic characteristics, and of course the thermal test results!