Verax GmbH P17CuX Ultra Quiet Heatsink Review
---
Frostytech has reviewed several of Verax GmbH's ultra-quiet heatsinks in the past, and while the heatsink and fan have remained pretty much identical throughout, the company always manages to mix it up a little. The Verax CAIRdB fan design is unarguably one of the most revolutionary on the market, though it can really be a struggle to get acclimated with the when moving from traditional vaneaxial fans.
As always, Verax place their focus on quiet, then cooling... I'd expect the newly released Intel Pentium 4 (willamette) / Socket 603/604 Xeon Verax P17CuX heatsink to be a little on the warm side when it comes to testing. So far though, the Verax heatsinks always manage to keep the test system within reasonable levels, all the while with virtually no noise.
The P17CuX heatsink breaks away from Verax's past flirtation with CGDS technology, and instead employs a massive copper plate bolted to the base of their signature aluminum extrusion. A thin layer of common white silicon thermal compound fills out the voids between the two surfaces, but other than that, it's a pretty low-tech add-on.
Heatsink Specsheet:

Model: P17CuX
HS Material: Extruded aluminum and copper base plate
Fan: 1400-3500RPM, 12V, 0.75A
Fan Dim: 25x80x80mm
FHS Dimensions: 93x63x70mm
Weight: 538 grams
Made by: Verax GmbH

Sold By: www.veraxfans.com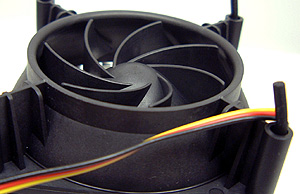 If this is the first time you have ever seen a Verax Ventilatoren GmbH heatsink, then perhaps a little background on the company is in order. With previous experience in fluid engineering, this German manufacturer has sought to create a series of thermally controlled, zero-noise heatsinks. They have accomplished this by adopting a radically different fan design that apparently reduces the noises typically associated with vaneaxial fans.
The trend setting impeller on the CAIRdB fan works by accelerating air between its blades evenly, over a substantially longer distance than standard vaneaxial fans. This keeps turbulent noises down as the impeller rotates counter-clockwise - totally opposite to that of traditional vaneaxial fans. The CAIRdB fan doesn't move air as quickly as a traditional fan of the same size, so it is not suited for overclocking in any way.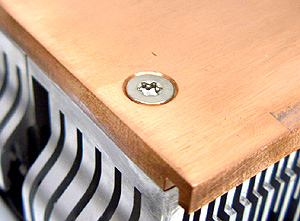 An embedded thermistor in one of the motor support struts samples intake air temperature continuously and lets the fan respond as case temperature increases; from 1400RPM - 3500RPM over a temperature range of 20-45 degrees Celsius.
We've been critical of the thermistor placement on the CAIRdB fans, especially when they are used on heatsinks. As with all previous Verax heatsink reviews, we gently popped the thermistor out of its cavity and bent it over so it would be closer to the actual aluminum fins of the heatsink for testing purposes. When testing in ambient temperatures, there is no other way to get the CAIRdB to spin up to full speed to find the upper limits of its cooling capability.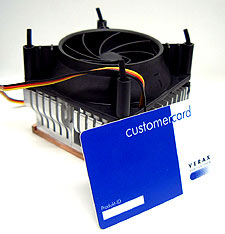 Since this is a thermally responsive fan, the sound levels increase to near 40dB from 35dB at max RPM - still, that's pretty quiet! As if that isn't enough already, the temperature sensitive Verax CAIRdB fan is even held in place by vibration absorbing rubber dampening posts.
The rubber posts lock into the fan, and support it a few millimeters above the tips of the aluminum fins. In this respect, any vibrations in the fan are absorbed for the most part instead of being transmitted down and through to the rest of the computer chassis.
Curiously, the P17CuX also comes with a "CustomerCard," useful perhaps if the CAIRdB fan ever fails. In over 300 heatsinks we have tested, this is the only manufacturer we have ever include a card like this with a heatsink...