Information not expressly stated in the Final Rise above Ambient Temperature Test Results List concerns the pre-applied thermal pad (we remove this for testing any way), the number of fans on each heatsink, general fan noise and clip force observations, and ambient temperature measurements. As always, FrostyTech's Synthetic Temperature Test results for the Socket 478 Intel Pentium 4 platform are grouped according to the results of the 100W test die.
FrostyTech Synthetic Temperature Heatsink Test Results: *Ranked according to 100W interface die test results.
As a low noise heatsink the Verax P17CuX is one of the best, but as a virtually silent heatsink, when it comes to thermal performance the results are substantially lower than the average. The Verax P17CuX manages a very slight thermal advantage over the past model - the P16 - when running in its quietest mode. With the fan running at top speed, as it would in a case with an ambient temperature over 45 degrees Celsius, the Verax P17CuX comes ahead by a further 6 degrees Celsius. This is not enough however, to outperform the Verax P16Cu socket 478 Pentium 4 version which edges in just a bit cooler.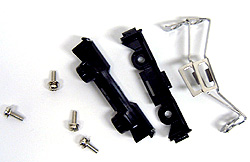 Acoustically, the Verax P17CuX heatsink should provide adequate cooling for socket 423 Intel Willamette processors, with a noise level of somewhere between 35 dbA to ~41 dBA. Whether there is a really need for Willamette cooling at this stage in the game is another question altogether, but at least those users have the silent option available to them.
As for socket 603/604 Xeon cooling, my impressions are a little more mixed. I have at different times run Xeon chips in servers with active 1U cooling solutions, and even entirely passive 1U or 2U heatsinks and never really worried about their thermals. When it comes to setting up a desktop Xeon-based workstation for quiet cooling however, I'm not so certain either way. Xeons are by all account rugged chips, but I don't have enough experience running them in a desktop PC to really make an educated recommendation here. In the server environment, active and passively cooled 1U/2U heatsinks have additional cooling from case fans, but in a desktop case where noise becomes an issue, a phalanx of little 10,000RPM 40mm fans blowing towards the CPU and memory isn't going to cut it.
Though, to not leave you hanging, I would expect the Verax P17CuX would deliver sufficient cooling to a socket 603/604 Xeon for stable operation - especially considering the adoption of the Northwood core by recent Xeon's. The operating temperatures will be elevated, but it will also be nice and quiet.
Related Articles:
Here are a few other articles that you might enjoy as well...
1. Coolermaster Hyper6 KHCV81U1 Review
2. Gigabyte 3DCooler-Ultra PCU31-VH P4/K7/K8 Heatsink Review
3. Coolermaster Jet 4 ICB-V83 Pentium 4 Heatsink
4. Scythe Kamakaze AthlonXP / Pentium 4 Heatsink Review
5. Thermal Integration TI-RV108N Pentium 4 Heatsink
6. Cooljag CJC66IC-A Copper Pentium 4 Heatsink Review
7. Alpha Novatech S-PAL8952 Pentium4 Heatsink Review