Thermaltake Silent Boost A1889-01 Copper Heatsink Review
---
The premise behind the Silent Boost heatsink series is quiet cooling. The unique fans Thermaltake use, relate directly to the modified fans developed a couple years ago by Andy Lemont. Mr. Lemont discovered that horizontal slits in the fan casing could help to decrease fan noise by several orders of magnitude, and worked for short time promoting a heatsink adapted to this technique.
FrostyTech was there when the first commercial heatsinks based on this principle were released, and took part in the review of the Millennium Thermal Glaciator Copper Heatsink in the summer of 2001, but nothing much became of it in the end. Fast forward a couple of years, and we are again face to face with a mix of some interesting tech, some common cooling methodologies, and large aspirations on the part of Thermaltake. Enter the Thermaltake Silent Boost for the AthlonXP.
Heatsink Specsheet:

Model: A1889-01
HS Material: Copper
Fan: 2450RPM, 12V, 0.14A
Fan Dim: 25x80x80mm
FHS Dimensions: 82x70x49mm
Weight: n/a
Made by: Thermaltake

Sold By: www.thermaltake.com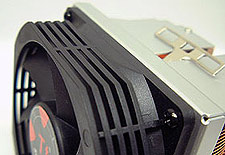 Quiet heatsinks have soared in popularity as manufacturers have been forced to develop more efficient designs which cool better, quietly. There is now no reason why you should have to associate a quiet heatsink with under whelming thermal performance.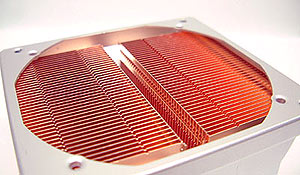 The fan frame features a series of four 1.5mm x 32mm slits cut from what would normally be a solid surface. The slits allow air to be drawn in by the impeller at different locations, with the end result being a slightly lower pitch of sound from the 2450RPM fan.
Below the fan rests the 41 sets of very thin copper fins which are soldered to a 6mm thick copper base. The copper fins are attached to one another by means of small folded tabs placed in different locations.
This is a pretty standard construction method that has been in use by many heatsink companies for a several years with good results. The folded fin assemblies allow the manufacturer to build thin-fin, high aspect ration fin assemblies that A. would not be possible with typical extrusions, and B. would not otherwise be possible in copper to the same quality of fin-to-fin spacing.