Zalman CNPS7000A-Cu Socket A/478/754 Heatsink Review
---
Once upon a time, everyone in the computer industry was obsessed with getting processors to run as fast as possible with the help of a little overclocking, and a massive heatsink. While these high powered heatsinks worked wonderfully at keeping the speedy processors running cool, noise quickly became a problem. Computers were shoved behind desks, in closets, and packed full of sound absorbing materials all to little or no avail. Many gamers turned to headphones in an effort to drown out the noise, but with an ever present whine in the background, the popularity in 'screaming Delta's' and '7000RPM fans' began to erode quickly.
While consumers everywhere looked for 'something quiet' that was also 'an excellent cooler,' there were very few options to choose from. Noisecontrol out of German had a silver-based heatsink, but it was almost $100 when it first came out. Other manufacturers tried fan adaptors, thermal sensors; added copper plates, fins, pins, and whatever else they could devise to make their coolers quietly work better. In Korea, a then much smaller Zalman Tech. Co. was producing 'flower heatsinks' that looked like folded metal fans.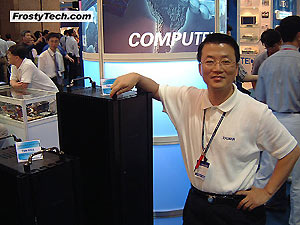 Mr. Sang-Cheol Lee, Mgr. of Zalman's R & D Dept., and inventor of the original fan heatsink concept, standing next to the upcoming TNN800 passively cooled case.
The Zalman heatsinks which came into being were entirely passive devices with external fans that mounted inside of the computer case to blow air over the 60 or so fins that were bolted together. The design was as eye catching as it was unique, and slowly but surely, Zalman began to be recognized just as sure as the low noise phenomenon began to catch on.
Today, Zalman is a much larger company. As their heatsinks have become well known to consumers looking for low-noise cooling accessories, the company is now branching out into passively cooled cases and watercooling equipment as unique as the first CNPS3100 Copper Fan Heatsink when it debuted 2001.
In this review we'll be testing out the successor to the Zalman CNPS7000-Cu heatsink, the CNPS7000A-Cu. While the names may have changed very little, it is clear by looking at the heatsinks that the company has made a few minor revisions, and added in some extra hardware for wider processor compatibility.
In other words, rather than manufacturer three different versions of the CNPS7000A-Cu; one for the Socket A AthlonXP, another for the socket 478 Intel Pentium 4, and finally one more for the socket 754 Athlon64, Zalman have made the CNPS7000A-Cu compatible with all three sockets. For the most part at least....
Heatsink Specsheet:

Model: CNPS7000A-Cu
HS Material: Copper Fins
Fan: 2400RPM, 12V
Fan Dim: 25x85x85mm
FHS Dimensions: 110x109x62mm
Weight: 773g
Made by: Zalman Tech. Co.

Sold By: www.zalmanusa.com
Continuing on in typical Zalman tradition, the CNPS7000A-Cu is a low noise heatsink that can be made even quieter with the use of the included Fanmate 1 fan speed controller. When used, the Fanmate 1 drops the speed of the integrated 85mm fan impeller from 2400RPM to about 1350RPM, making it barely audible.
| | | |
| --- | --- | --- |
| | | |
| Socket 754/940 | Socket 478 | Socket A |
The heatsink comes with mounting brackets for the AthlonXP (with holes in the motherboard), Pentium 4, and even Athlon64 processors. This means if you're thinking of upgrading from a Pentium4 to an Athlon64 processor you won't have to buy a whole new heatsink when you do.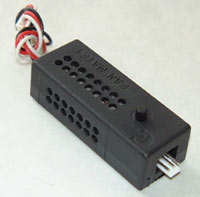 As the CNPS7000A-Cu is both a large and heavy heatsink, Zalman have developed a strong retention system for the 773gram heatsink. Spring clips are out, and in their place are two 7mm wide aluminum bars.
The two aluminum bars slide into the clip spaces in a standard Pentium 4 HSRM, after which the entire heatsink is dropped into the socket and screwed down in place. An integrated spring mechanism holds the heatsink down and applies the correct mounting pressure to the processor core.
With the Socket 754 system, two brass nipples screw into the standard metal support plate on every Athlon64 motherboard. The spring clip on the CNPS7000A-cu then firmly screws into the brass mounting posts.
Rounding out the list of included items are two brass standoffs, two socket 478 mounting brackets, socket 462 mounting brackets, a couple screws, a small tube of thermal compound, paper washers and the FanMate 1 Rheostat.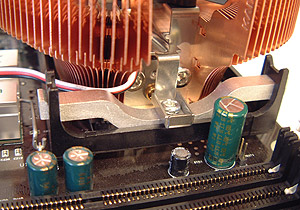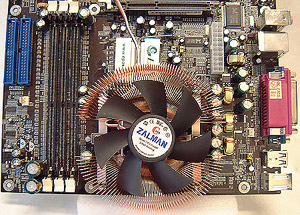 When the CNPS7000A-Cu is installed on a Pentium 4 motherboard it is easy to see why there may be space problems in some compact enclosures.