[Socket 478] Rise Above Ambient Temp. (c)
Mfg.
Model
27mm large copper block
27mm large copper block

50W

100W

Thermalright (high)
SLK-900U
11.6
20.5
Cooljag (high)
CJC66IC-A
10.4
21.3
Zalman
CNPS7000A-Cu
12.4
24.9
Alpha
PAL8942
14.7
26.1
Zalman
CNPS7000-Cu
14.1
27.7
AVC
117140
15.2
27.8
JMC
401100
15.6
27.9
Coolermaster
IHC-H71
14.0
28.1
Taisol
CEP447181
14.6
28.7
Jetart
JAP416A
11.8
29.1
Arkua
8568
15.4
29.3
Intel
Stock 3.06GHz
15.0
30.1
Jetart
JAP407A
13.8
30.2
Spire
SP411C5
17.3
31.7
Taisol
CCP445172
17.5
30.7
Arkua
Q85X-7J
16.7
31.9
Dynatron
DC1207BMX
17.2
32.4
Thermal Integration (high)
TI-V7035TN
18.1
32.7
Cooljag
JVC661A
17.3
33.5
TS Heatronics (6" fan dist)
NCU-1000
15.6
33.6
Dynatron
DC1206BMY
18.6
33.6
Scythe
Kamakaze
18.9
34.1
Zalman
CNPS6500-AlCu
17.2
34.3
Taisol
CEP426151A
19.4
35.4
Spire
SP420B8
17.4
36.2
Arkua
8456X-8T
18.6
36.3
Arkua
838T-7G
18.7
36.7
Scythe
Kamakaze
17.9
36.9
Intel
Socket 478
19.4
37.4
Dynatron
DC1207BMW
19.5
37.9
Zalman
CNPS5700D-Cu
18.9
38.3
Titan
CW9TB/SC
18.9
38.3
Evercool
NW9F715CA
19.1
38.5
Aopen
ACP4LC
17.9
38.8
Globalwin
VA476
20.8
39.3
Dynatron
DC1206BM-S
20.8
39.6
AVC
117160
20.3
39.8
Arctic Cooling
SuperSilent4 Pro
21.7
43.0
Dynatron
DC1206BMV
22.0
45.1
Vantec
GSN-7105
25.1
46.6
Arkua
848X-6B
27.3
53.2
Verax
P16
27.4
54.0
Dynatron
DC1U-B02
32.9
67.4

50W

100W
First off, I should let you know that the Thermalright SLK-900U in this list of reference heatsinks was tested with a high speed Delta fan that produced over 67 dBA or noise. The Zalman heatsink on the other hand, while only coming in about 4 degrees Celsius warmer, produced just 42 dBA of sound.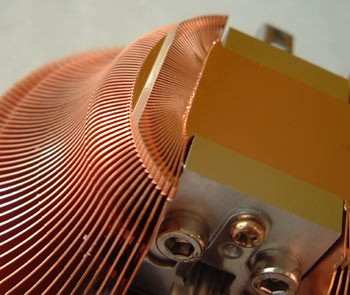 Quite the difference, and quite the reason why this Zalman heatsink has become so popular with folks looking for a little extra cooling performance without the added noise of a high-speed fan.
On the Pentium 4 platform the Zalman CNPS7000A-Cu is best suited. The standard HSRM which Intel employs makes it universally acceptable for all P4 motherboards, and the clipping system is pretty easy to use as it doesn't require the motherboard to be removed for installation.
The only problem that may occur is if the AGP and processor sockets are located too close together. A list of non-compatible motherboards is on Zalman's site, but most of the models are value-oriented boards you are unlikely to want to have in your PC anyway.
The CNPS7000A-Cu is also compatible with the new AMD Athlon64 Socket 754/940 processors, but we don't yet have our new synthetic temperature test platform built for testing K8 heatsinks. Look to FrostyTech.com in the near future for a whole series of K8 heatsink reviews.
Ultimately the Zalman  CNPS7000A-Cu is a very good performing SocketA/Socket 478 heatsink as you have seen by the test results above. It manages to cool with great efficiency, as evidenced by the nice low noise levels. Furthermore, with the aide of the Fanmate 1, the speed of the large fan can be further adjusted for even quieter operation. Temperatures will rise if you turn the fan speed down too far, but even under normal operation the heatsink offers very compelling value for the price. Bottom line; the Zalman CNPS7000A-Cu is easily recommended for performance cooling, low noise cooling, or just a bit of both.
Related Articles:
Here are a few other articles that you might enjoy as well...
1. Arctic Cooling Copper Silent 2 Heatsink Review
2. Tocools Novasonic-AlCu Heatsink Review
3. Jetart JAP407A Copper Pentium 4 Heatsink Review
4. Aopen ACK7L Copper Skive Heatsink Review
5. Jetart JAP416A Pentium 4 Heatsink Review
6. Cooljag CJC66IC-A Copper Pentium 4 Heatsink Review
7. Arkua 728M-7N01 Copper Core Heatsink Review