Aopen ACP4LC Pentium 4 Heatsink Review
---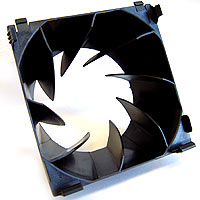 The Aopen ACP4LC is a tall heatsinks, standing a whopping 98mm high, 55mm of which is taken up by the fan and adaptor. While the Aopen ACP4LC Pentium 4 heatsink isn't particularly revolutionary in design, or materials, it makes up for that with a bit of brawn, and an economical sticker price.
On top of that, the Aopen's fan adaptor allows an 80mm Nidec fan to mount to the 70mm heatsink frame. The point of this, is of course to reduce the noise created by the fan by using a larger and slower rotating impeller.
Combined, these two traits allow for a fan which moves more air slower than a smaller fan, but moves the same overall amount of air to keep the heatsink nice and cool.
Heatsink Specsheet:

Model: ACP4LC
HS Material: nickel-plated Aluminum extrusion, copper base
Fan: 2400 RPM, 12V, 0.13A
Fan Dim: 25x80x80mm
FHS Dimensions: 98x83x69mm
Made by: Aopen

Sold By: www.aopen.com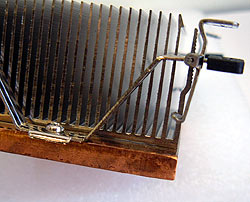 In our time we've seen many methods of attaching copper base plates to aluminum heatsinks. Some manufacturers plate the aluminum with nickel and then use that as a basis to solder on the copper. Other have used screws, white silicon compound, bolts and a bit of force to manually attach a copper base plate to the bottom of an extruded aluminum heatsink.
Since the copper portion of the Aopen ACP4LC is what actually comes in contact with the processor. it is very important that the rest of the heatsink (specifically the fins) make excellent contact with the copper.
If the heat energy being absorbed by the copper isn't actually being transferred to the aluminum portion of the heatsink effectively, then what's the point after all? In the case of this heatsink, it looks as though the aluminum was soldered to the copper.