Taisol CEP447181 Pentium 4 Heatsink Review
---
Taisol are known to many of us as a heatsink manufacturer; producing outlandish heatpipe coolers right along side the stock and trade. Surprisingly, heatsinks are not the only product Taisol fabricate, the company also has its business firmly based in everything from connectors, to flash memory readers (well, the sockets anyway).
The Taisol CEP447181 is an aptly named extruded aluminum heatsink for the pentium 4 processor. It's not much to look at, doesn't have any fancy copper inserts or even a flashy name, but it does pack in one very spunky fan. It's also rated for the new 3.06GHz FMB2 Pentium 4 processors.
Perched atop the fan shroud is a Delta AFB0712HHD fan that draws in 0.3A under power. Given the 70mm size, the fan is remarkably un-quiet - which can only indicate that the Taisol CEP447181 isn't a pushover.
Heatsink Specsheet:

Model: CEP447181
HS Material: Aluminum extrusion
Fan: 4400 RPM, 12V, 0.3A
Fan Dim: 20x70x70mm
FHS Dimensions: 95x73x45mm
Weight: 470 gram
Made by: Taisol

Sold By: www.taisol.com
To keep the assembly simple, the Taisol CEP447181 uses standard over the heatsink spring clips. The clips fit into small shelves on either side of the fan, and lock into the HSRM without any difficulty.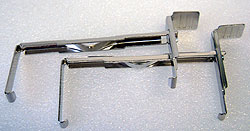 This method may not be the most ingenious, but it is pretty inexpensive so we can assume the overall price of this heatsink is going to be fairly affordable.