Eumax EU01 Copper Heatsink Review
---
The EU01 is a low profile copper socket A heatsink with a single stiff clip. Built up from a 5mm thick copper base with over 30 thin copper fins surround the 10mm thick fan, the EU01 looks as though it might have some surprises in store for us. With potential applications ranging from small form factor PC's to even possibly entry level 1U servers, the EU01 is an interesting combination of small size and highly conductive materials.
As the Eumax EU01 is composed of two separate sets of components - a copper base and many thin copper fins - the thermal interface between these two components is very important.
Some of the questions we routinely consider when examining this type of heatsink are if the fins are butted up to the base, swaged into groves cut in the copper, or soldered with the help of a small fold to increase the mating surface area. While the latter is typically the most common method we see from Taiwanese manufacturers, Eumax have simply soldered the copper fins in place with a butt joint.
Heatsink Specsheet:

Model Name: EU01
Fan Specs: 5300RPM, 12V, 0.30A.
Fan Dim: 10x60x60mm
Heatsink Dim: 28x65x81mm
HS Material: Copper, aluminum
Mfg by: Eumax


Sold By: www.eumax.com
That type of construction can be perfectly good, but when you have a butt joint measuring just 0.2mm thick problems can occur. If the copper fins are not properly cleaned, if the flux is not applied well enough, or if the solder doesn't flow well the resulting thermal joint can be poor. Even worse, the mechanical bond between the copper fin and the copper base can fail.
The sample we received from Eumax arrived with one loose fin - having apparently shaken itself loose because of a poor solder joint.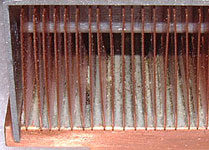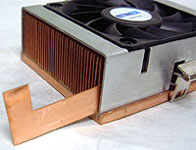 This failure occurred even before we installed the heatsink, but what if the fin had just come loose after the heatsink had been installed in a system? Images of a copper heatsink fin laying loose on the rear of an expensive videocard are the stuff of nightmares, and don't bode well for the little Eumax EU01.