Akasa Silver Mountain 2Q Copper Heatsink Review
---
The sound of silence sells best in this day and age, and in an effort to make the Silver Mountain 2 line of heatsinks quieter, Akasa have released the Silver Mountain 2Q model - with a 4600RPM low noise Sanyo Denki fan onboard.
The silver mountain is a unique breed among coolers - it's based upon a solid copper foundation, but with a twist. Where most manufacturers would stop, Akasa have taken one extra step to help and ensure thermal uniformity; plating the entire heatsink with a coating of silver.
The silver coating won't really influence thermal results, but will prevent the underlying copper from oxidizing. Provided the silver coating is thick enough, it may even fill in some of the small gaps between the 14 rows of mechanically joined fins and 6mm thick base.
Heatsink Specsheet:

Model Name: Silver Mountain 2
Fan Specs: 4600RPM, 33.6CFM, 12V, 0.17A.
Fan Dim: 25x60x60mm
Heatsink Dim: 75x60x72mm
HS Material: Copper, silver plated
Mfg by: Akasa


Sold By: www.lapicon.co.uk
After picking up the Silver Mountain 2Q for the first time it is impressive to notice just how heavy the heatsink really is. Then again this shouldn't come as much of a surprise since the heatsink is all copper, it just might the fact that the silver coating gives it the appearance of aluminum which we naturally expect to be lighter.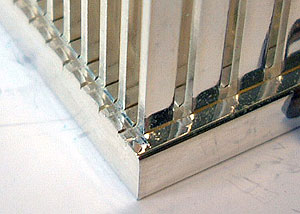 Each of the fins have been inserted into a slot in the 6mm thick copper base. The fin sections were then crimped into place to keep them firmly attached. It is difficult to tell if any soldering has taken place (most likely it has) since the entire heatsink is plated. A small aluminum fan shroud has also been attached to keep the fan in position, and direct the airflow from the 25mm thick fan further down the length of the fins.