Vantec VA4C7040 Aeroflow Heatsink Review
---
The Vantec Aeroflow VAC7040 copper core socket A heatsink is one of the most unique heatsinks Vantec have produced since we began reviewing heatsinks in our own FrostyTech way. Retailing for about $32 USD the primarily aluminum heatsink employs several manufacturing principles in its creation with the ultimate goal of potent cooling, and lower noise levels.
Holding the Vantec Aeroflow in my hands proves that the squarish appearance is deceiving - the heatsink weighs under 400 grams and is lighter than it looks. The bottom of the heatsink appears pretty solid when you rotate it over, but in actuality, most of the surface of the heatsink is cooling fin.
The Aeroflow uses a TMD fan for cooling because there is more even airflow than with a traditional brushless DC fan. TMD fans which were used on several Swiftech models were recalled earlier this year as many of you are aware. We asked Vantec about this issue in no uncertain terms and were told that the TMD fans used here do not suffer the same defects. After all, the last thing we would want to do is review a heatsink that could potentially fry your processor because of faulty electronics!
Heatsink Specsheet:

Model Name: VA4C7040
Fan Specs: 5600RPM, 35CFM, 12V, 0.30A.
Fan Dim: 15x75x75mm
Heatsink Dim: 75x75x60mm
HS Material: Extruded/milled aluminum, copper insert
Weight: 384rams
Mfg by: Vantec


Sold By: www.vantecusa.com
The heatsink is built up from a core extrusion which then has a central cylinder for the copper core bored to the correct tolerances. With the copper core hydraulically pressed into place, the external fins of the Aeroflow are cut by a flat saw blade.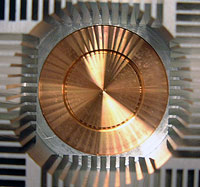 Each fin measures under 1mm in thickness, and the base of the fins taper out as the cut nears the base of the heatsink to help direct exhaust airflow from the TMD fan (Tip Magnetic Drive).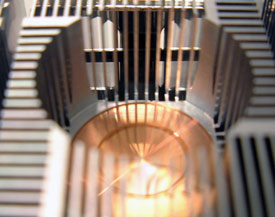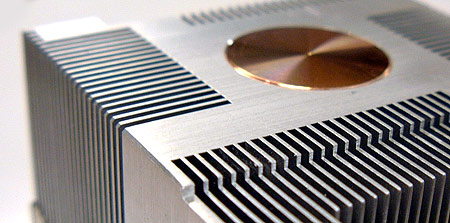 The idea of the tapered fins seems to be to bring the exhaust air down through the fins and then out laterally at the base of the heatsink so the air doesn't back pressure against the motherboard, or processor itself. You should be able to see the slight taper from the above photo which was taken looking down the heatsink from the perspective of the fan itself.