Vantec 470W Stealth Powersupply Review
---
It's pretty rare these days to look at a powersupply and be impressed with its appearance. Now granted, what's on the inside of a powersupply is ten times as important has how the equipment looks, but with case modding and highly detailed systems out there it seems like a shame to install just another well made, gray , powersupply.
As consumers, we should have the option of going for something with the power, and class, to make a full aluminum case - all aluminum!
Vantec must have heard the call, because they have recently released the black anodized aluminum VAN-470A powersupply. With 470 watts of power, an armful of connectors, and some low-noise features the unit seems to have an impressive rap sheet. Add to that three fans with wire grills, and a mesh wrapped set of 24-pin ATX power cables and you have something pretty interesting in your computer.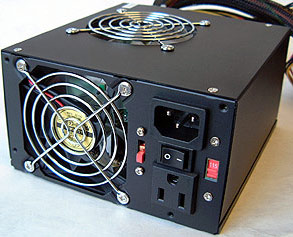 "ATV 12V" is the standard for P4, Athlon XP/MP systems. "ATX 2.03" is an older standard for PIII and AMD K7 processors. ATX 12V PSU's like the Vantec VAN-470A also support older ATX 2.03 systems.
The PFC VAN-470 comes with a 24-pin to 20-pin ATX power adaptor so the powersupply easily plugs into standard desktop boards, and more power hungry WTX system as well. The list of connectors goes like this; (1) 24-pin ATX, (1) 8-pin, (1) 4-pin, (1) 6-pin Auxiliary, (9) Molex, (2) FDD connectors and a 24-to-20 pin ATX converter cable.
The cables all use gold-plated crimps, and in addition to the rather large and useful set of connectors (when was the last time you used a powersupply with an 8-pin connector?) there are a few things on the rear of the aluminum case which drew our attention.
In addition to the standard computer power plug we find a standard switched AC power socket. We call the socket "switched" because if you hit the powerswitch on the rear of the Power Supply Unit (PSU) that power socket is turned off.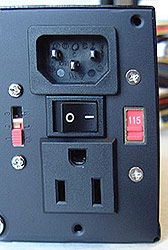 Conversely, if the computer is shut down, that socket will also get turned off. Vantec suggested hooking up a power bar to that socket so when the computer is shut down, all the peripherals connected to the power bar will also get turned off. When we consider peripherals like printers, scanners, and computer speaker systems this makes sense and is a useful way to save a bit of electricity with devices that don't have a natural 'standby' mode.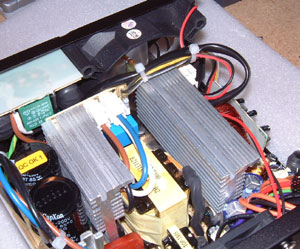 The power cables are nice and long which is great for those tall tower cases. For those users there is always the concern of power cables not reaching the lower components. The temperature controlled fans (when set to automatic) will run at between 900RPM to 2200RPM once the internal temperature sensor reaches 50 degrees Celsius. Above that the speed of the fans will max out at approximately 2500RPM according to the Vantec documentation.
With the powersupply running in silent mode, we measured its noise levels at approximately, 47.5 dBA. With the VAN-470A running at full levels that noise signature rose to approximately 53.7 dBA.
[Update: While the fan speed control button on the rear of Vantec's powersupplies is novel, it doesn't work reliably with the fans used to cool the powersupply. On each of the Vantec powersupplies we have tested continually for several months, the fan eventually stalls if the fan speed button is set to the *quietest* setting. This leads to the powersupply overheating, and that nice smell of burning electronics. Thus far, we have *not* had a Vantec powersupplies fail because of this, ie. blow up, melt, burn down, or shut off, but they do increase in temperature quite dramatically. Therefore, we *do not recommend* that you use the quietest speed setting, instead use the medium or full speed option.]