ChoLiang CB0307Z17 P4 Heatsink Review
---
The CB0307Z17 makes use of the same extrusion design as that of another Cho-Liang heatsink here, but the question is; can the same heatsink be used to properly cool both an AMD processor and an Intel Pentium 4? We'll find out in just a second as we test this heatsink out and stress it to the max. From what we have been seeing from other Cho-Liang heatsinks, performance has been coming in on the OEM level.
This heatsink performed pretty well on the socket 370/socket A test platform so chances are good that we could see equally good performance on the P4 test die. That is if the CB0307Z17 can handle the increase in heat generating surface area without breaking into a sweat!
Heatsink Specsheet:

Model Name: CB0307Z17
Fan Specs: 3500RPM, 12V, 0.22A, 29CFM
Fan Dim: 15x70x70mm
Heatsink Dim: 84x69x43mm
HS Material: Extruded Aluminum
Weight: 290gm
Mfg by: Cho-Liang
Cost: $29USD


Sold By: www.cho-liang.com.tw
The distinctive fins of this heatsink make it stand out, and make it appear that some interesting airflow considerations have gone into its design. The difference between this version, and the one destined for use on an AMD processor is not much more complicated than the types of clipping mechanisms in use, and should be interesting to test out. With this P4 version small tabs have been left on the sides to bring the entire width to 84mm.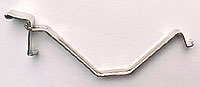 The clips just sit on top of the tab, and when locked into place firmly hold the heatsink in place. The system works well enough, though it is pretty simple by most other comparisons.