Dynatron DC1207BMW Pentium 4 Heatsink Review
---
Dynatron have shown us in the past that they can innovate, and make rather cool heatsinks. With the DC1207BMW, or model W, things are straight forward and plane. The heatsink is but a straight extrusion with a fan on top.
A set of two stainless steel spring clips are included with the Model-W, and they sit in a little aluminum channel just above the fins to keep the entire heatsink firmly seated on the socket. The stainless steel clips are spring tensioned so that the heatsink is always under pressure, and the system works pretty well. Overall the installation is very straight forward and removing the heatsink isn't a hassle at all unlike other Pentium 4 heatsinks.
Heatsink Specsheet:

Model: DC1207BMW
Fan Type: Top Motor
Fan: 4500RPM,12V, 0.22A
Fan Dim: 15x70x70mm
Heatsink Dim: 53x69x83mm
HS Material: extruded aluminum
Mfg by: Dynatron Corp.
Cost: $23


Sold By:Dynatron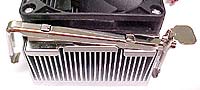 Here you can see how the clip sits on the top of the heatsink and forces the entire unit down into the HSRM. The benefit of this method is really that you can see where the clip is, and have better control over it than with the stock Intel heatsink for example. The downside is that the mechanism is a bit more complicated and there is the chance of it coming loose should the PC be bumped hard, or dropped.