Sibak AC02625B Copper Core Heatsink Review
---
First there was Thermosonic, then Thermal Integrations and Arkua, and now Sibak have joined the ranks. Heatsinks based on the original Thermoengine are steadily growing because the design is just so efficient, with all the exhaust air being dumped on the processor directly they can't help but cool.
Take that concept and throw in a nice little slug of copper and you have the makings of a very inexpensive, high performing, and easy to make cooling system. Plus, the faster that fan spins, the more cooling the entire system receives.
Sibak have gone one step further and added a flashy (or tacky) bit of perforated aluminum around the fan for that funky silver look. Don't be fooled into thinking that aluminum is anything other than ornamental. Of course if you happen to put some glow wire or blue LED's behind there and somehow light the whole thing up that is your choice. ;)
Heatsink Specsheet:

Model Name: AC-02-625B
Fan Specs: Everflow, 7000RPM, 12V, 0.34A.
Fan Dim: 25x60x60mm
Heatsink Dim: 70x69x66.5mm
HS Material: Extruded Aluminum, Copper Core
Thermal Pad: none
Mfg by: Sibak
Cost: $35USD


Sold By: Sibak
The base of this heatsink is kind of curious because it is difficult to tell if Sibak were over zealous on the machining aspect, or were a bit lead-footed on the ol' 10-ton hydraulic press. You see there is a 55mm circle on the base and top where the aluminum has been removed ever so slightly.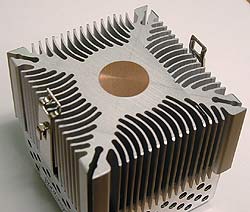 It's just a passing observation and not something I think will really affect proper mounting of the heatsink on those fagile AthlonXP's... but then again I can't get my engineers straight edge to sit flush on the copper because that section is part of the area recessed.