Taisol CGK760092 Heatsink Review
---
Taisol heatsinks have become fairly well known in North America after they started making cold forged heatsinks which were reminiscent of Alpha. The fins and base of the CGK760092 heatsink look like they are each made from separate components, but are in fact one and the same.
To spice things up even further, a copper plate has been embedded into the aluminum base. Taisol call this an "impact forged CopperBase." Unlike some OEM manufacturers which just bolt on a copper plate with a little thermal compound the copper plate which is part of the CGK760092 is not removeable.
Cold forging is a process by which metal is shaped within a closed die with continuous impact or pressure.
No heat or machining is required for this process, rather the metal piece is reshaped by a series of progressive blows as it passes from die to die under high force.
Heatsink Specsheet:

Model Name: CGK760092
Fan Specs: 21CFM, 36.5 dB, 4800RPM, 12V, 0.22A.
Fan Dim: 10x60x60mm
Heatsink Dim: 80x59x60mm
HS Material: Cold Forged Aluminum 6063-T5 w/h Copper Insert
Weight: 264grams
Mfg by: Taisol
Cost: $34USD


Sold By: www.taisol.com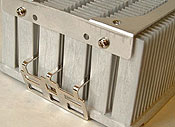 The clip on the CGK760092 is a bit hard to use because of the angles and the need for a small flat head screwdriver, but the three prongs are more than a welcome site.
With half the copper heatsinks on the market a real danger to your system if it is getting moved around there has to be more focus on the clips. Ideally, a heatsink should remain perfectly stationary when installed and not shift, or slump on the socket when the computer is positioned upright.
Three prongs help to ensure the heatsink isn't going anywhere, and also lessons the chance that the clips can be broken off of the socket itself.