Sibak AT01515B TwinHead Heatsink Review
---
Sibak are one of the many companies which have attended CeBit 2002, and while we didn't fly around the world just to look at heatsinks, we have had the opportunity to look at several of their coolers, the first of which is the AT01515B "twinhead."
About the only aspect which is similar to other heatsinks we have reviewed before is that the AT01515B is an extruded heatsink. There is nothing familiar with any other part of the heatsink so it will be interesting to see how it can handle the heat.
Heatsink Specsheet:

Model Name: AT01515B
Fan Specs: twin fans, 4500RPM, 12V, 0.2A.
Fan Dim: 15x50x50mm
Heatsink Dim: 60x116x60mm
HS Material: Extruded Aluminum
Mfg by: Sibak Tech
Cost: $24USD


Sold By: www.sibak.com.tw
The twinhead design of the AT01515B heatsink from Sibak is not all to uncommon in high power heatsinks, but somewhat rare for a processor cooler. The basic idea behind using a triangular design with twin fans is that you can engineer more surface area and more fins than possible on a similarly design square heatsink.
The only real down side we can see from the outset is the need for a rather thick base, and the long distances the thermal energy must travel before it actually reaches a fin for dispersal.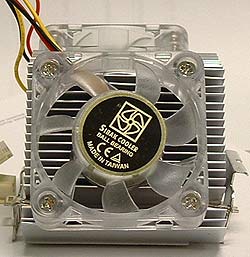 The "V" shaped extrusion is definitely unique, and with a healthy amount of fins it has all the components to make it a contender. The question is, can this uniquely designed heatsink pass the test? Let's find out!