Zalman CNPS6500-AlCu Fan Heatsink Review
---
Zalman long ago coined the acronym 'CNPS' to convey their concept of a total computer noise prevention system. At the heart of the system is Zalman's patented flower shaped heatsink, which offers the benefits of a short heat path, and high surface area.
The newest Zalman heatsinks to break into the market are taking on the Pentium 4 Socket 478 processor, and doing it with style, grace, and surprisingly good cooling properties.
In the past it was often the case that the quieter you went with a heatsink, the lower its subsequent performance would be.
As I'm sure most of you will agree, quiet is good, but cooling power is just as important. To that effect we were very pleased to see the CNPS6500AlCu outperform the stock Intel heatsink that ships with the Pentium 4! This is something we would have only expected from a noisy performance heatsink, and not from a very low noise "quiet" heatsink.
Heatsink Specsheet:

Model: CNPS6500-AlCu
(45) aluminum (8) copper 0.5mm thick fins.
Fan: 92mm case-mounted
Fan Dim: Power Cooler 25x92x92mm, 12V, 3.36W
FHS Dimensions: 115x94x65mm
Weight: 440 grams
Surface area: 3400cm2
Thermal resistance: 0.30C/W
Machine milled base
Made & Sold by:
Zalman Tech Co.
Cost: ~$40USD

Sold By: www.zalman.co.kr
Basics on the Noise Reduction System
The easiest way to improve the performance of a heatsink is to increase the amount of air the fan generates. This is not the best way to improve a heatsink, but it is the easiest, and most common method.
To this effect, computers all over the world have become very noisy.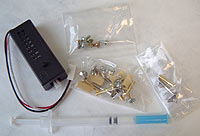 In most situations we are apt to grin and bear it - tucking the computer under a table or putting headphones on and turning up the music.
In some situations however, quiet computers are really necessary. For example, if a computer is working 24/7 in a bedroom or in a sound studio, lots of noise is just not going to cut it.
This is where Zalman steps in with "CNPS," an acronym for "Computer Noise Prevention System." In addition to the large 92mm fan that comes with the CNPS6500AlCu, they also include the FanMate 1.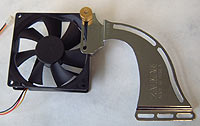 The FanMate 1 allows you to further decrease the degree of noise generated by the fan, by lowering the amount of voltage it receives, and in turn how fast it rotates.
The Fan Mate 1 is rated to handle fans drawing 6W or less (via a three-pin power connector), and will output from between 12V to 5V depending on where the dial is set.
The flower heatsinks comes with a 92mm fan on a adjustable armature. The mounting arm attaches to the case by using the first three slot card screw positions and a 25cm long fan wire plugs directly into the motherboard to offer RPM monitoring.