Acoustic Samples: Listen to this Heatsink
The CNPS6500-AlCu comes with the Zalman Fanmate 1 which allows users to control how fast the 92mm fan rotates, and thus how noisy it is.The first recording is a standard 10 sec bit with the fan connected directly to the power supply. The second recording is of the fan connected via the Fanmate 1, and also illustrates what happens when you turn the dial down so the fan makes less noise.
FrostyTech Acoustic Sampling Chamber (~10 sec)

Standard Waveform view.
(Listen to an MP3 recording of this heatsink by clicking on the headphones)
You can see the effect visually in the second wave form image, or you can click on the pair of headphones and listen in to each recording separately.
Sound Level Measurements:
Being able to listen to the heatsink allows you to hear things that pure numbers alone cannot get across, but to further emphasize Frosty's reliance on cold hard facts when evaluating a heatsink, we are now pleased to offer sound level measurements. While the list of heatsinks which have been measured for sound levels is still growing, this is now a firmly part of our test procedures.
FrostyTech Sound Level Results
Manufacturer
Model
Noise Level
Scale
1
Zalman
CNPS6500-AlCu
47.4/28.9 dB
quiet
2
Intel
Socket 478
42.5 dB
3
AVC
117140
56.1 dB
louder
The split results for the Zalman heatsink mean this; the first measurement of 47.4 dB is of the fan without the FanMate 1 in place, the second measurement of just 28.9 dB is of the fan with the FanMate 1 set to its maximum point. The AVC 117140 Sunflower is an excellent Pentium 4 heatsink, but it produces quite a bit more noise than the Zalman flower heatsinks do.
Synthetic Temperature Test Results: *Ranked according to 100W interface die test results.
FrostyTech Synthetic Temperature Test Platform Results
Mfg.
Model
Ambient Temp.
27mm large copper block
27mm large copper block
Thermal pad
No. Fans
Fan Noise
Clip force
50W
100W
1
AVC
117140
22.6
37.8
50.4
none
1
med
med
2
Arkua
8568
22.4
37.8
51.7
none
1
med
med
3
Zalman
CNPS6500-AlCu
23.1
40.3
57.4
none
1
low
easy
4
Vantec
GSN-7025
22.5
41.7
58.5
none
1
med
med
5
Chauh Choung
DTA-478
22.4
42.1
59.0
carbon
1
low
med
6
Intel
Socket 478
22.4
41.8
59.8
carbon
1
low
med
7
Titan
TTC-MT3AB
22.8
41.5
61.2
none
2
loud
stiff
8
Dynatron
DC1206BM-S
22.4
43.2
62.0
none
1
med
med
9
AVC
117160
22.4
42.7
62.2
white pad
1
med
med
10
Vantec
GSN-7015
22.4
47.5
69.0
none
1
loud
stiff
50W
100W
Even for just an aluminum heatsink, the CNPS6500-AlCu has done remarkably well in this first set of test results.
With an average temp of about 2 degrees lower than the reference Intel heatsink, the Zalman CNPS6500-AlCu also boasts a much lower noise signature and very good cooling characteristics for its class.
Rise Above Ambient Temp. (c)
Mfg.
Model
27mm large copper block
27mm large copper block

50W

100W

1
AVC
117140
15.2
27.8
2
Arkua
8568
15.4
29.3
3
Zalman
CNPS6500-AlCu
17.2
34.3
4
Vantec
GSN-7025
19.2
36.0
5
chauh Choung
DTA-478
19.7
36.6
6
Intel
Socket 478
19.4
37.4
7
Titan
TTC-MT3AB
18.7
38.4
8
Dynatron
DC1206BM-S
20.8
39.6
9
AVC
117160
20.3
39.8
10
Vantec
GSN-7105
25.1
46.6

50W

100W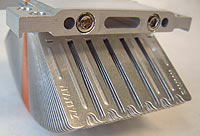 These are the thermal numbers which really tell us how well, or how poorly a heatsink performs under the test conditions. In the case of the Zalman CNPS6500AlCu we can see that it comes in about 3 degrees lower than the reference Intel socket 478 heatsink in the 100W test, and about 2 degrees in the 50 test.
For a low noise cooling solution these are really spectacular numbers. Generally we make allowances for low noise solutions as we expect them to come in 5 or 10 degrees behind the reference cooler. The benefit is usually the decrease in noise, and not an improvement in cooling power.
Zalman have really created a very high quality low noise heatsink that performs above the grade. After looking at these numbers, the step up to the CNPS6500Cu is sure to be even more impressive.