Titan TTC-MT3AB Heatsink Review
---
Sometimes it seems as though heatsink manufacturers are trying to sell coolers by looks alone - hoping that the more outrageous a heatsink looks, the better it will sell. The Titan MT3AB certainly gains points for trying something new with this heatsink, but considering the lackluster performance we have seen from this type of cooler in the past, can we expect anything different here?
There are a few interesting theories at work on the MT3AB. The first and most obvious is the adaptation of Thermaltake's Orb heatsink design, but on its side. The second is the use of twin fans to induce more airflow and turbulence over the forty or so extruded aluminum fins which have been anodized gold.
Heatsink Specsheet:

Model: TTC-MT3AB
Fan: 12V, 0.28A
Fan Dim: 25x60x60mm
Heatsink Dim: 70x89x63mm
HS Material: Extruded Aluminum
Mfg by: Titan
Cost: ~$29


Sold By: www.titan-cd.com
The Titan MT3AB comes with clips for the socket 423 Intel Pentium 4 platform, but if you happen to have the right kind of mount it can be used on the socket 478 processor.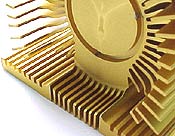 Of all the areas on the heatsink which will have an impact on its cooling performance, it would appear that the bottom slits in the base are best placed. Since the distances heat has to travel before it can even get to a fin are very long, the bottom fins offer a quick and close means of adding cooling capabilities to the MT3AB.