Titan TTC-D6TBA Heatsink Review
---
First impressions of heatsinks have a tendency to be swayed by how shiny or strange looking the heatsink is. Every once in a while though, that first impression proves itself accurate, and the heatsink does as well as it looks.
In the case of Titan, we had in the past only seen marginal performance from their heatsinks - a problem of too much material, not enough airflow, and less than ideal orientation. Well it seems Titan have invested in some new ideas and have begun to target their heatsinks to the noise conscious user. The TTC-D6TBA utilizes a 60mm fan that produces sparing amounts of noise.
On top of all this the folks at Titan have managed to include a nifty (or annoying) feature that can possibly help save your T-Bird or AXP from overheating into oblivion. With their solution, a stopped fan now sets of an audible alarm to warn you of a cooling malfunction. Neat eh?
Heatsink Specsheet:

Model: TTC-D6TBA
Fan: 5000RPM, 29CFM, 12V, 0.25A
Fan Dim: 25x60x60mm
Heatsink Dim: 69x80x63mm
HS Material: Extruded Aluminum
Mfg by: Titan
Cost: ~$22


Sold By: www.titan-cd.com
Rotational Alarm Built-in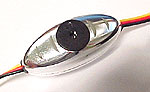 The alarm system is contained in a small streamlined plastic enclosure a short distance from the fan and is tied into the RPM sensor by the looks of it.
Some simple circuitry sets off a piezoelectric alarm that puts out a rather annoying beep when the fan stops rotating. The technology applied here is very simple, and the alarm is only triggered when power is applied to the fan, but the fan blades are not rotating. Once the fan blades begin to move, however slow it may be, the alarm is shut off.
The end result is good for catastrophic failures of the fan, or situations where the blades have sucked in a loose wire, but do nothing to resolve instances where the bearings partially seize slowing the fan down. On one final note, each time the fan is started up, a short squeak from the alarm is also sounded - and this can be a bit startling if you aren't expecting it.