Chauh Choung DTA-478 Socket 478 Heatsink Review
---
Given the hundred odd heatsinks I've reviewed, you'd almost think it was possible to glance at a heatsink and say, "ya that one is good because is uses and effective impingement airflow design", or grimace at another and pass it over. This little Socket 478 heatsink yielded results that were ever so slightly above that of the reference Intel socket 478 heatsink - and honestly, I would have never guessed it.
Anyway, part of the fun in reviewing never before heard of heatsinks is discovering the diamond in the rough, and while the DTA-478 isn't quite in that arena, it isn't a total wash out either. As we mentioned, it performs at about the same level as the stock Intel socket 478 cooler after all.
The heatsink uses a dead simple extrusion design, and some rather interesting clips which are screwed into place on the heatsink itself.
Heatsink Specsheet:

Model: DTA-478
Fan: Magic, 12V, 0.25A.
Fan Dim: 15x70x70mm
Heatsink Dim: 74x40x62mm
HS Material: Extruded Aluminum
Mfg by: Chauh Choung
Cost: ~$28


Sold By: www.ccia.com.tw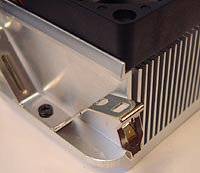 Measuring 59mm in height with the fan, the DTA-478 is based on a very simple aluminum extrusion design, and an 11-bladded fan. The only really remarkable thing about the DTA-478 is the clip system, with is both low-tech, and useful.
From what I have just seen on some GlacialTech heatsinks, the socket 478 platform seems to drive designers to produce the most complicated latch system they can.
The DTA-478 uses a standard spring clip, but instead of leaving it free so the user has to put it in position and such, the folks at Chauh Choung have screwed it into place on a small flange that sticks out from the base on each side.
The four catches can be engaged with your fingers, and it works best if you do the two on opposite ends before trying to do opposite ends. To remove the clips, and heatsink from the socket, you need only use a small screw driver to put pressure on the catch so it pops out. Pretty rudimentary, and easy to use.