AVC 117140 Socket 478 Heatsink Review
---
Like the Arkua and Zalman heatsinks, the AVC 117140 has carved out a name for itself by going where no heatsink has gone before in terms of design and manufacture. The 117140, better known by its nickname as "the sunflower cooler" is a large socket 478 performance cooler with a copper core.
The Sunflower coolers first popped up at Computex last year, and have steadily been spreading around from there. As there are relatively few performance heatsinks for the Pentium 4 platform, the 117140 is a welcome sight.
We first got our hands on this attractive cooler at COMDEX fall of last year. At the AVC booth we learned that the heatsinks are made by a two step process. The aluminum fin sections are first extruded and cut to size, then the individual fin sections are placed into a machine that bends all of the fins to give them the shape you see below. When this has been accomplished, the center portion is reamed to the appropriate diameter and the copper slug pressed in for a tight interference fit. The copper slug is the only part of the heatsink that actually touches the core of the processor, and it is left a bit above the rest of the body to ensure a flush fit when installed.
Heatsink Specsheet:

Model: 117140
Fan: AVC, 5400RPM, 12V, 0.2A.
Fan Dim: 15x70x70mm
Heatsink Dim: 35x83x70mm
HS Material: Extruded Aluminum, Copper
Mfg by: Asia Vital Corp (AVC)
Comes with: HSRM, thermal compound.
Approx Cost: ~$44


Sold By:
www.avc.com.tw
www.canarep.com
www.thermo-link.com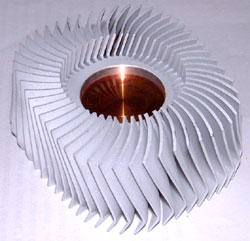 When the AVC117140 heatsink first came out I remember thinking that the unit was made from a cast aluminum section and a copper slug.
I was a bit surprised when I heard that it was just a fancy extrusion which has been bent into shape. The end result is something to look at, and has the desired effect of improving cooling performance by curving all the fins slightly.
The difficult thing about a heatsink of this description is that there is no easy way to mount it to the processor. Where this intended for the socket A platform it would be very difficult to install. However, as the socket 478 form factor has a HSRM mounted to the PCB, this forms a natural box to hold the Sunflower in place.
Ingeniously, the entire mounting apparatus is one small levered piece of plastic which uses a 70mm fan for part of the frame. The two identical clipping mechanisms lock into the HSRM, and with the levers engaged, apply force to the heatsink and processor core.
The Sunflower cooler really is the crowing achievement in AVC's cooling arsenal, and the performance is equally good.