Goliath Copper Heatsink Review
---
In this review of the Goliath heatsink from OCZ we'll be looking at the standard version you see below and also a version with an 80mm fan. Both sets of fans are highspeed and 32mm thick so you can be sure that noise will a guaranteed factor in our decision.
The idea differentiating the two versions of the Goliath is focused around noise and the presumption that a slightly lower RPM 80mm fan will produce less noise without cooling sacrifices. To accomplish the conversion from the 60mm opening on the heatsink itself and the base of th 80mm fan, OCZ have supplied us with a prototype slim-line fan adaptor.
This should be an interesting review, and one where we will be sure to keep our fingers well clear of any spinning blades. The last time FrostyTech saw a 32mm thick high-RPM Delta fan I got one of my fingers sliced open and bled everywhere. Make no mistake, fan grills save fingers!
Heatsink Specsheet:

Model: Goliath
Fan: Delta, 6800RPM, 38mm thick, 12V, 0.83A.
Fan Dim: 38x60x60mm
Heatsink Dim: 81x75x60mm
HS Material: Copper, Aluminum
Mfg by: OCZ Tech
Cost: ~$30


Sold By: www.ocztech.com
Copper here, copper there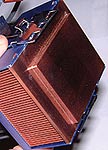 The heatsink is fairly well made, generally above that of your typical copper heatsinks, but there are a few behind the sceens tricks to make it look like this. The most obvious example is the small ridge which keeps in the copper fin sections.
The machined base gets a bit of a brushing or polishing to spruce it up too.
The copper fins on the Goliath are dip brazed in place. Dip Brazing is a way to solder complex assemblies by submersion in high temperature salt baths. The salt acts like a flux and the solder migrates to the joints by capillary action. Since the entire unit is heated consistently, there is very little if any deformation and tolerances can be held quite close.