Intel's Stock Pentium 4 Heatsink Review
---
Every retail Intel Pentium 4 Socket 478 processor up until now has come with the almost iconic "stock Intel Pentium 4 heatsink." Despite the fact that we're pretty much conditioned to pass on this cooler for actual use and side with something a little more powerful and sexy, the 'old' Intel heatsink ain't that bad. Yes, you read that right, the stock Intel heatsink pictured below is pretty good - it's not the most powerful Pentium 4 heatsink, but it is one of the quietest.
While the stock Intel heatsink has begun to shift to a slightly different design, this cooler still forms the basis of all reference points - acoustic and thermal. Sanyo Denki manufacture this heatsink from what we can tell, and there are some pretty aspects to it, even if at first glace it looks rough around the edges.
The number one benefit is good noise control of course. The heatsink is really quiet (just 42.5dB in our tests) as any newly converted Intel fanatic can attest to. The fan on the model we tested is composed of glass fiber reinforced plastic and the leading edges of the impeller are nice and smooth.
Heatsink Specsheet:

Model: n/a
Fan: Sanyo Denki, 5400RPM, 12V, 0.2A.
Fan Dim: 25x70x70mm
Heatsink Dim: 92x68x62mm
HS Material: Extruded Aluminum
Cost: included in retail package


Sold By: www.intel.com
The Foxconn cam actuated retention mechanism that the heatsink uses to keep itself in place is a synch to lock into place, but a bit tough to remove as we can all attest to. From Intel's perspective the stock cooler has the best aspects from a long list of points; it is easy to manufacture since it's just an extrusion, it uses a simple one-piece screw less fan system, users the locking mechanism simple and the list goes on.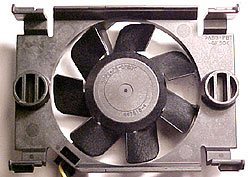 From a performance users perspective the stock heatsink lacks in a couple of key qualities. First off, the raw extrusion has a fairly rough base finish and uses a metal thermal pad instead of more efficient thermal compound. The fan while exceptionally quiet, is not all that powerful and in overclocking situations doesn't offer great amounts of headroom. However, even those points can become mundane when other heatsinks with noisy fans start to grind on the nerves.