Zalman FanMate 1 - Rheostat and 4-Pin PWM fan Tweak
---
At one point or another we have all thought about how noisy our computers are. Although some motherboard have features which allow the system to dynamically speed up or slow down CPU fans, most systems leave case fans running at default voltages, and noise levels. Add to this the many additional fans we chuck into our system in the belief that they will help in cooling and you have a situation where a lot of air is moving around, a lot of impellers are rotating and noise levels are getting out of hand.
Companies like producing heatsinks like the Noise Control Silverado and Zalman used to include sets of resistors to control fan RPM by limiting the voltage going to the fans. These connections were handy, but adjusting the fans was not possible.
Zalman have recently introduced a solution as part of their CNPS system to bring commercially made Rheostats to processor heatsinks. This product is called the Fan Mate 1. The Fan Mate 1 gives users an adjustable dial to control the speed of a fan connected to the small device. The Fan Mate 1 is rated to handle fans drawing 6W or less, and will output from between 12V to 5V depending on where the potentiometer (speed dial) is set.
The unit itself is quite small measuring 59 x 23 x 18mm and can control one fan via a three-pin power connector. On the maximum setting (loudest noise, fastest RPM)) the Fan Mate 1 offers a slight amount of resistance so the fan will not spin quite as fast as if it were not there (the difference is about 5%).
On the lowest setting (quietest noise, lowest RPM) the fan should be running essentially silently, and in our tests it did. Even those horribly noise Delta fans become quiet which is ever the testament to the usefulness of this little black box.
The only areas of concern to be aware of with a product like this are how much voltage you CPU fan draws, and secondly, what you motherboard looks for during boot up. It is very important to remember that this rheostat is designed to handle 6Watts or less, putting it on a high amperage fan could spell disaster. Additionally, some motherboards will set of alarms or refuse to boot if it seems as though the fan is spinning to slowly - something that would be determined by the Fan Mate 1 setting.
In any case, this is a very well built, and handy little tool for controlling the speed of processor fans, case fans, or even auxiliary fans that are rotating faster then is really necessary. Granted all system users won't need a tool like this, but it is great to see commercial rheostats in the marketplace.
Fix for PWM Fans Not Running at Full Speed on Legacy 3-pin Motherboards
If you're using heatsink with a 4-pin Pulse Width Modulation (PWM) fan on a motherboard that only supports 3-pin fans, there is a chance the PWM may default to its lowest possible speed. This can lead to the CPU overheating, as the BIOS is obviously not communicating with the fan and tell it to speed up as temperatures rise.
The solution to make the 4-pin PWM fan spin at its fastest speed is not too difficult...
Notice: While we have tested this tweak out, we cannot guarantee this method will work with all PWM fans. Furthermore, given the variety in construction and design of 12V DC fans, attempting this tweak may result in damage to circuitry and may invalidate the fan's warranty.
First find a separate length of wire. Use that piece of wire to bridge the yellow 12V+ (P2) and blue PWM (P4) wires coming from the PWM fan together. Once this is done the fan will always spin at full speed. Remove the wire and the fan will return to its default speed setting.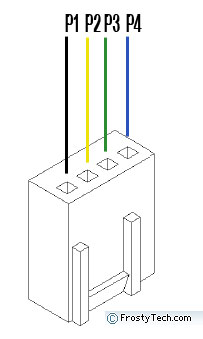 4-pin PWM fan power jacks pin diagram
P1 (Black) - Ground
P2 (Yellow) - 12V+
P3 (Green) - Tachometer signal
P4 (Blue) - PWM signal
For some reason, there is a complete lack of 4-pin PWM fan manual fan speed controllers in the marketplace right now, and that can create problems if you're using a PWM fan heatsink with a motherboard that only supports 3-pin CPU fans. It's been our experience that when most PWM fans are plugged into such a board, the PWM fan either runs constantly at full, minimum, or some medium speed. Unless it's thermally responsive, you end up being stuck with whatever default speed the fan decides to run at. If the PWM fan runs loudly, a 4-pin PWM fan manual fan speed controller would really come in handy to tame the noise....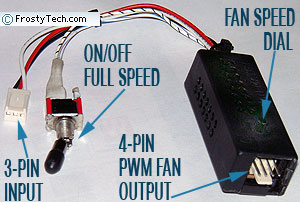 In the FrostyTech labs we tweaked this Zalman FanMate 1 fan speed controller to accommodate 4-pin PWM fans, and rigged it with a hard switch to facilitate changing between the full speed and default speed mode of a PWM fan by bridging the +12V (yellow) and PWM signal (blue) connections. When the tweaked Zalman FanMate 1 is set to "full speed on", it has the added benefit of allowing us to dial in the fan speed manually, by varying the voltage to the fan as one normally would with this device (~6V to 11.5V).
Some PWM fans will vary their speed accordingly with the voltage change, others not as much. It largely depends on whether the PWM fan defaults to a minimum speed or not. Clearly, this is a very basic work around in the absence of true PWM-fan manual fan speed controllers, as the FanMate 1 contains no pulse width modulation circuitry. When the switch is left off, the PWM fan runs as if it was connected to any standard 3-pin fan header.