Arkua 6158 Copper-Core Heatsink Review
---
Once you figure out how Arkua name their heatsinks it's not too difficult to known which versions to pay extra attention to. The Arkua 6158 is essentially the same heatsink as the 6258, but with a smaller 10mm thick fan. The lower amount of air flowing over the fins impacts its performance level, but also yields a substantial decrease in noise. These little 60mm fans are the kind many of us were used to using on our older processors and were once the defacto standard. The all important solid copper core is still there, so you could potentially buy this heatsink and upgrade it to a 25mm or even 38mm thick 60mm Delta if you desired (and had adequate noise proofing).
Heatsink Specsheet:

Model: 6158
Fan: Innovative, 6800RPM, 12V, 0.21A, ball bearing.
Fan Dim: 10x60x60mm
Heatsink Dim: 42x64x64mm
HS Material: Aluminum, Copper
Mfg by: Arkua
Cost: ~$23


Sold By: Arkua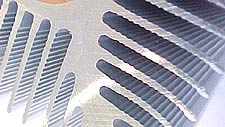 I have to admit, since this is like the 83rd heatsink we have reviewed it's kinna fun taking these close up pics. Like the picture on the right, some really close up shots look extra cool. If you didn't know what we were taking about it would be hard to tag this down as a heatsink. Of course, on the practical side, these close up pictures also help you, the consumer, get a better understanding of the level of quality vested in each heatsinks design, and manufacture.
Depending on the company, some heatsinks look like they have been professionally made to exacting standards, and others look like they have been thrown together, or worse yet, are just a generic extrusion with a fancy name.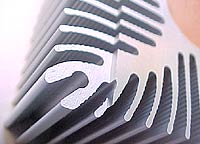 As with the 6258, the theory behind this cooler that the more thermally conductive 29mm diameter copper core at the center will quickly transfer the heat to the surrounding aluminum for dispersal to the environment. The base is machined perfectly smooth, and the corners are somewhat sharp so watch your fingers.
The orientation of the fan is also a very important factor, and the rippled texture on the fins creates turbulence which aids in the removal of heat energy.
The basic design of the Arkua line of heatsinks should remind you of the Thermoengine heatsinks, and indeed according to the Arkua website, their heatsinks are based on licensed technology from Thermosonic.