BitsPower NP80D Skive Heatsink Review
---
Bitspower are part of the growing trend of skive heatsinks. Skive heatsinks are neither extruded or cast but rather cut from a single block of material. The benefits of this particular heatsink technology are that the fins and the base section are in fact one and the same, so no joints need obstruct the flow of heat energy. The technique is difficult to mass produce from what we have been hearing, and although Dynatron have recently made quite a name for themselves in this regard, there are still relatively few heatsinks available in this arena.
In any event, Bitspower have a range of skive heatsinks that look they've been bent out of whack after being dropped. This isn't the case of course, but given the angled appearance, one can't help but draw immediate conclusions. The real reason revolves around the shape of each fin.
Heatsink Specsheet:

Model: NP80D
Fan: SuperRed, 12V, 0.28A
Fan Dim: 20x60x60mm
Heatsink Dim: 59x80x69mm
HS Material: Skived Aluminum
Mfg by: Bits Power
Cost: ~$28


Sold By: Bits Power
Slicing the fins from the base: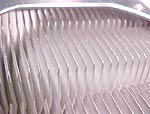 One the best aspects of skived fins is that they tend to take on a knife edge at the tip. This low profile edge is excellent when you need to minimize the interference to air as it passes by. Conversely, with a square or butt-faced fin, the air is obstructed from flowing as freely within the many fins. Naturally, the more air you can get to move between those fins, the more heatsink can keep that toasty processor cool.
The NP80D maintains the bent look of just about every Bitspower heatsink we've seen because each fin is slightly curved, rather than straight. The fins are also a bit thicker than what we are used to seeing on a skived heatsink, but the NP80D seems to work well enough. To support the fan, and allow ample room for exhaust air to escape to the surrounding environment, the NP80D uses a more open fan shroud. The small support is screwed into the base of the heatsink and is open enough that you can easily see the rough texture on the outer side of the fins.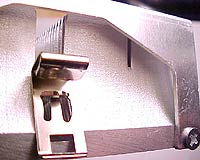 The clip is a nice "tool free" one by the way.