Arkua 7528 Copper-Core Heatsink Review
---
The model 7528 Arkua heatsink is exactly identical to the model 7228 except for one very important aspect - the fan. Where the model 7228 has a speedy 60mm x 25mm 6800RPM fan the 7528 has a 70mm x 15mm 5400RPM fan. From the users perspective, the 7528 is quieter, and offers comparable performance because it is based on the same underlying metal fin assembly.
We all know that fan power plays an important role in cooling so the real question now becomes, how much of a difference is there between the two Arkua coolers?
Heatsink Specsheet:

Model: 7528
Fan: Innovative, 6800RPM, 12V, 0.39A, ball bearing.
Fan Dim: 15x70x70mm
Heatsink Dim: 63x75x75mm
HS Material: Aluminum, Copper
Mfg by: Arkua
Cost: ~$35


Sold By: Arkua
That's a copper core in there: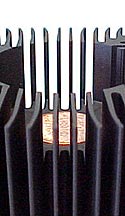 The 7528 is an aluminum heatsink with a copper slug for a heart. With the copper core, a more thermally conductive center (28mm in diameter) will tend to move the heat to the surrounding aluminum faster. The top of the copper slug is exposed, and you can almost wonder why Arkua didn't cut any fins in the surface like the Dragon Orb from Thermaltake. In cany case, the base which interfaces with todays largely bare silicon processor dies is machined nice and smooth.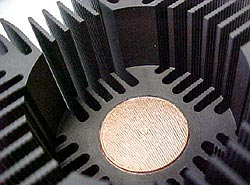 The extrusion design employed by Arkua works rather well for a couple of reasons. First off the orientation of the fins gains the most of the air as it decends from the fan, and secondly, the exhuast air that leaves the heatsink is directed right towards the top surface of the processor.
Continuously blowing cool air down onto the processor isn't going to hurt anyone's temperature results.
The central portion of the 7528 has been machined out to leave a 38mm diameter hole that goes down 17.5mm, leaving the copper core only about 24mm in height instead of the full 42mm. The entire design of the Arkua line of heatsinks should remind you of the Thermoengine heatsinks we all fell over a few months back, and indeed according to the Arkua website, their heatsinks are based on licensed technology from Thermosonic.