Coolermaster HCC-002 Copper Heatsink Review
---
When one of the founding fathers of heatsink manufacturing slips off the map for several months you know full something is in the works. That company is Coolermaster, and the heatsink in question is the solid copper HCC-002. Weighing in at around 300-400grams the CCH-002 is elegantly made, and equipped with a speedy 6800 RPM fan.
The last time we looked at at a heatsink from Coolermaster it was the revolutionary twin heat pipe CH5-5K12. In our opinion, this still remains one of the best looking heatsinks to have come across our desk, even if the performance wasn't as quite revolutionary.
Heatsink Specsheet:

Model: HCC-002
Fan: Delta, 6800RPM, 12V, 0.35A, ball bearing.
Fan Dim: 25x70x70mm
Heatsink Dim: 63x62x60mm
HS Material: Copper, aluminum
Mfg by: Copper
Cost: ~$35


Sold By: CoolerMaster
Thick Malleable Copper Fins Work:
Thin fins may be all the rage at the moment, but that doesn't mean other technologies cannot be as effective - in the end it all comes down the thermal engineering department. A well designed heatsink will be capable of dispersing the heat over the base to each and every fin as uniformly as possible.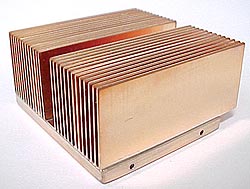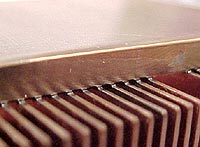 The Coolermaster CCH-002 uses fins 0.8mm thick separated ~1.2mm. This is pretty rare considering most heatsinks have fins of similar thickness spaced 2mm apart. The real trick with the CCH-002 is the way in which fins are joined to the 5mm thick base.
Rather than use slots and swag the fins in, or even use lead solder, the fins are joined with copper-based solder (as best we can determine anyway).
In any case, the thermal joints between each fin, and the base are perfectly smooth, uniform and clean. Looking closely at the picture above, the copper fins are thoroughly bonded to the base so that heat energy can travel between the two sections easily and efficiently.