OCZ Dominator 2 Heatsink Review
---
First there was Dominator and now there is Dominator 2! Back from beyond eternity, Dominator 2 will cool your processor into oblivion! Movie-title names aside, the updated Dominator 2 from OCZ is an all aluminum skive heatsink intended for performance, but set at a value price level.
Skive heatsinks were originally gained a lot of their attention when Dynatron released their series of copper and aluminum coolers. Now a day, many other companies have entered into the market, with differing fin densities. The Dominator2 resembles a Dynatron heatsink, but employs a unique fin design and 46-fin density. The original Dominator featured a slightly lower fin density, so the expectations are for the Dominator 2 to perform better - and frankly, it does this even with a less powerful fan.
Heatsink Specsheet:

Model: Dominator2
Fan: YS Tech NFD126025BB-2F, 7000RPM, 12V, 7.2W
Fan Dim: 25x60x60mm
Heatsink Dim: 64x62x70mm
HS Material: Aluminum
Mfg by: www.ocztech.com
Cost: $15


Sold By: www.webuildpcs.com
Increased fin density: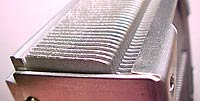 Given that the original Dominator had 40 fins, the 46 fins of the Dominator 2 should guarantee an increase in cooling performance - the only question is by how much. The original Dominator came to us with a 38mm high Delta fan, and the current model only uses a 25mm high YS Tech (a 38mm Delta is also optional, but since the YS Tech is default we tested with this cooler).
If you're looking at this heatsink and saying, "hey this is just a regular Dynatron" that isn't quite accurate. OCZ have the dibs on some very funky extra fin height that you won't see under that name. The stepped fins slide under the fan shroud and offer a bit of extra width as well.