Fortis Tech A102 Heatsink Review
---
Fortis Tech have been making their name known this year with a line of copper/aluminum hybrid coolers packing high-RPM fans. The idea behind the A102 is a simple time-tested one. The ultimate usefulness of the heatsink hangs in balance however, depending largely on the thermal interface material between the fins and copper base. Unlike the full copper base and fin designs, the aluminum fins and copper base of the A102 are not well suited to soldering or other similar joining techniques so a thermal epoxy has apparently been utilized.
If this layer of thermal adhesive is too thick, heat will have a difficult time efficiently moving across from the copper plate to the fin assembly. On the other end of the spectrum, it too little material is used, the fins will not properly bond or air gaps will interfere with cooling even more.
Like the model A92, the A102 is constructed from a 5mm thick copper base plate and 25 aluminum fins joined together to form an assembly. With a high-powered fan sitting on top, and a larger surface area below, the A102 should offer better performance characteristics than squatter A92 model. The question is, does it?
Heatsink Specsheet:

Model: A102
Fan: Young Lin DFC602512D, 7000RPM, 12V, 7.8W
Fan Dim: 25x60x60mm
Heatsink Dim: 82x62x62mm
HS Material: Copper, 1050 Aluminum
Mfg by: Fortis Technology
Cost: ~$25-$30


Sold By: Fortis Technology
Its all about the joint.

The Achilles heel of the A102 is right at the joint between the aluminum fins and the copper baseplate. As we have seen in the past, a copper base plate does not always equal better cooling capabilities - but it does go a long way. The trick is to take the heat from the copper base and quickly distribute it to the fins for removal to the surrounding environment.
If this critical heat transfer isn't happening, the heatsink will be crippled. Seeing as the A102 uses a thermal adhesive to bond the aluminum fins to the base plate this was a big concern.
The other area we have begun to pay more attention to lately is the clip. With about a hundred coolers tested so far, we have seen the good, the bad and some of the oddest clipping mechanisms on the planet.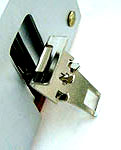 Thankfully, the hinged clip on the A102 is tool/tooless design. That means you can use a screwdriver to get some extra leverage, or just clip it with your fingers. Either way, the heatsink is easy to install, or remove.