Akasa Silver Mountain Heatsink Review
---
Take one solid copper heatsink and plate it entirely with silver and you have the Akasa Silver Mountain. Strap on a powerful Delta AFBO612EH fan and you have the potential for a wickedly adaptable cooling solution.
As shiny as the silver coating is on the Akasa heatsink, it really won't influence thermal results by any significant degree however. What the silver coating will do is prevent the underlying copper from oxidizing. Provided the silver coating is thick enough, it may even fill in some small gaps between the 18 sets of mechanically joined fins to the 6mm thick base plate.
Heatsink Specsheet:

Model: Silver Mountain
Fan: Delta, AFB0612EH, 5800RPM, 36CFM, 43dBa, 12V, 0.48A.
Fan Dim: 25x60x60mm
Heatsink Dim: 68x60x60mm
HS Material: Silver plated Copper
Mfg by: Akasa
Cost: ~$45


Sold By: Lapicon Electronics
Probably the first thing anyone picking up the Akasa Silvermountain will notice is its weight - it is a lot heavier than it looks. I suppose we are used to copper heatsinks being extra heavy and the similarity to the colour of aluminum throws us off guard.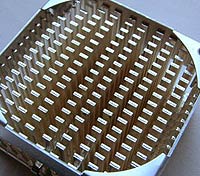 In any event, as we mentioned before the Silvermountains' silver concentration is only skin deep. Electroplated with silver for vanity, or perhaps to help keep the copper below from oxidizing we will never really know. In the past I've heard stories that the silver plating was there to fill in the gaps between the base and the fins - but we can't confirm this for sure.
Each of the fin sections has been inserted into a slot milled or cut into a 6mm thick copper base. The fin sections have then been crimped into place to keep them securely attached as possible. It is difficult to tell if any soldering has taken place since the entire heatsink is plated.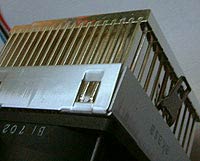 A small aluminum fan shroud has also been attached to keep the fan in position and direct the airflow from the 25mm thick fan further down the length of the 216 individual fins.